There have been few times sports have been as cruel as soccer was to Laura Bassett on Wednesday.
The stalwart England defender, her team riding a wave of national momentum into the World Cup semis, found herself the cause of a stoppage time own goal, one that sent Japan onto the final.
[ MATCH REPORT: England 1-2 Japan ]
Bassett thrust her leg out to prevent a cross from getting to its destination, and instead directed the ball off the crossbar and over the line. England, almost surely, was sunk. Moments later, they were out of the tournament.
A dejected Bassett crumpled to a heap, inconsolable.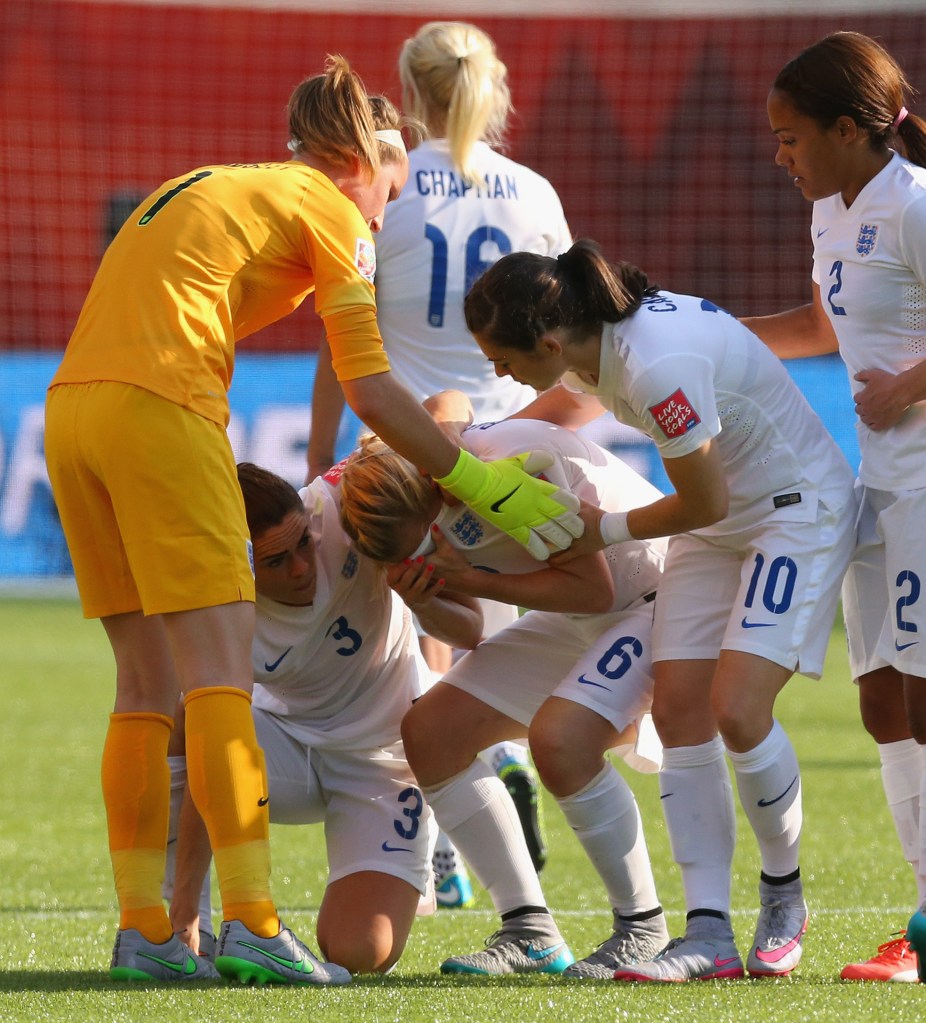 Nevertheless, the world tried, via Twitter.
From Brandi Chastain and Jeb Brovsky to total strangers from England and beyond, my goodness, people tried. With #proudofBassett and #TrueLionesses hashtags to boot.
@laurabassett6 You've been absolutely fantastic for the whole tournament! You can hold you're head up high #hero #ProudOfBassett #Lionesses

— Owen Reed (@Owenr22) July 2, 2015
@laurabassett6 I am SO sorry. Heart broken for you. I wanted a USAvENG final. Hold your head up. All the best to you & the Lionesses. — Christi Atherton (@ChristiAtherton) July 2, 2015
@laurabassett6 It will sting for awhile, but life is so much bigger than soccer and way bigger than a mistake. Prayers up for you.

— DèRontè Polite (@CoachDPolite) July 2, 2015
@laurabassett6 try not to worry about the game PK's happen so do OG , its part of the game you just have to deal with when u play defense — Hale Burnside MD (@RuffusMD) July 2, 2015
@laurabassett6 You and your team put on a courageous performance today and all tournament. Keep your chin up, tomorrow is a new day.

— Jersey Al – GBP (@JerseyAlGBP) July 2, 2015
@laurabassett6 — LAURA "LEGEND" BASSETT!! You're amazing girl!!! #Lionesses proud of you!! 👏👏👌👌👌⚽️🏆🇬🇧❤️ — 【ツ】#Lionesses #ENG (@AimzyLou) July 2, 2015
@laurabassett6 you played your hardest, it's an unfortunate pt of the game and it's heart wrenching. Move forward like a champ, bc u are

— Jes Anderson (@Jesanderson) July 2, 2015
Heart goes out to @laurabassett6 tonight. Fight on, you had to make that lunge 10x out of 10! Chin up! #SimplyUnlucky — Jeb Brovsky (@JebBrovsky) July 2, 2015
Any great defender would have done the exact same thing in @laurabassett6 situation. She is not at all to blame for the loss. #WWC2015

— Dave M. Kovalchick (@DaveKovalchick) July 2, 2015
@laurabassett6 No matter what, you are a credit to the nation. Be proud of your tournament and game. — Lee David Catigen-Co (@ledavcatco) July 2, 2015
@laurabassett6 Watched the game w/ my young son. We think u played wonderfully well & should keep ur head high!

— Ali (@RealADC) July 2, 2015
Hang in there, @laurabassett6. You all played a phenomenal game!! #PlayLikeAGirl — Kate Black (@lucywillchange) July 2, 2015
I'm not an England supporter but I want to send some love to Laura Bassett ♥ @laurabassett6 #Lionesses #ProudOfBassett #WomensWorldCup

— Mack (@Kcam0011) July 2, 2015
@laurabassett6 immense performance, you should be very proud. You had no choice but to play that ball. #TrueLioness — Simon Monckton (@sihair299) July 2, 2015
@laurabassett6 you played valiantly through the tournament. It's a beautiful game with some cruel moments.

— Leah Voit (@LeahV93) July 2, 2015
Dear @laurabassett6 You've been amazing. UR fight&determination are your true character.I know the pain of an own goal but it won't define U — Brandi Chastain (@brandichastain) July 2, 2015
@laurabassett6 Hold your head up high You have lead by example and been IMMENSE all tournament #ProudOfBassett and proud #Lionesses

— kellywilloughby (@kellymaire1985) July 2, 2015
Absolutely gutted for #ENG…they deserved that game. @laurabassett6, hold ur head high. I hope the country finally embraces this team.

— Julie Foudy (@JulieFoudy) July 2, 2015
Been immense tonight @laurabassett6 #headheldhigh

— Megs (@MegsHarris7) July 2, 2015
And finally, for a laugh…
Guys I'm not Laura Bassett the soccer player. But feel free to continue tweeting at me it's kinda fun

— Laura Bassett (@LEBassett) July 2, 2015