VANCOUVER, British Columbia – Abby Wambach knows the date by heart: July 17, 2011.
It's the day that she came closest to but ultimately fell short of the one thing for which she most lusts: a World Cup title.
July 17, 2011 is the only specific date for a match that is etched in Wambach's memory, she said. It is the date the United States lost the World Cup final to then underdog Japan, twice blowing the lead – including once in extra time – to eventually lose on penalty kicks. "For me, it's a constant reminder," she said Friday. "It's been a constant reminder since July 17, 2011."
On Sunday, Wambach and her U.S. teammates get a chance to flip the script on Japan in the 2015 Women's World Cup final – The Rematch. The U.S. beat Japan in the 2012 Olympic gold-medal match, but the World Cup remains the crown jewel of soccer. It's all that Wambach can think about. And winning the tournament for Wambach is part of United States players' motivation.
"I love playing with her," says US midfielder Carli Lloyd, who has very much grown up on this team alongside Wambach over the past decade. "It's kind of one of those things where I can play with her with my eyes closed. I always know where she is going to be. I always know what she's thinking, and she's been a true leader of this team. We wouldn't be where we are without her. She's been tremendous over the years and I want nothing more than to help her legacy if we win the World Cup. Obviously I want to win it for myself as well and the team, but for her, this being her last one, I will do whatever it takes to get the job done."
[LAULETTA: Rampone credits Ellis for meeting open-minded approach]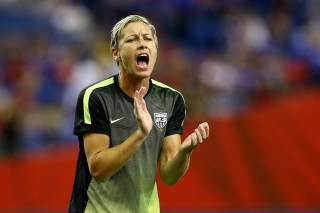 Wambach says this final isn't about avenging the 2011 World Cup final loss. Things are different this time – and she would know.
Wambach is the most decorated scorer in international soccer history – men's or women's – scoring 183 goals to date. She is still very much the face and the pulse of this United States team, even at 35 years old.
But after starting three of the first four matches at this World Cup, Wambach has played only 14 minutes combined in the past two games, which have by far been the team's best matches of the tournament. She has become more of a leader from the bench, a new role famously captured by cameras in a not-so-G-rated halftime speech during last week's quarterfinal against China.
"Abby in a lot of ways is the glue to this team," says U.S. forward Alex Morgan, who turned 26 years old on Thursday and who is Wambach's heir apparent. "No matter how much time she gets on the field this tournament, she's irreplaceable. I've enjoyed my time with her, my time on the field and my time growing our friendship. But she's a great leader for this team. She motivates us but she keeps us in check."
[KASSOUF: Why Wambach needs this World Cup title more than anything]
Generational legends being benched isn't something that always goes smoothly, but Wambach has taken a backseat knowing that it is the way to get to the thing that she wants most.
"We had early conversations and from day one," U.S. coach Jill Ellis said. "Abby, she wants to win a World Cup. She's committed to doing whatever it takes."
Of course the United States women want to win the World Cup; all 24 teams at this largest-ever Women's World Cup wanted to. The Americans want to end the talk of a 16-year "drought." They want to squash once and for all the idea that they live in the shadow of the 1999 title-winning team. And most of all, they just want the obvious: to be the best in the world.
But there is no denying that sending Wambach out on top (she has said for a while that this will be her last World Cup, but she hasn't discussed her plans beyond Sunday) is part of the equation for this team. In many ways it is a similar feeling to Wambach's early days with the U.S. national team, when she tried to help her mentor – Mia Hamm – and that generation of players exit the game as World Cup champions in 2003 (many of them would leave as Olympic gold-medalists in 2004). This time, however, Wambach is the legend on her way out, providing extra motivation for those around her.
Wambach is an extravert. She never shies away from a question and she loves to talk – about soccer, about teammates – about anything, really. Wambach is by all accounts the team's best storyteller. "I'm the most obnoxious person on the bench," she has said repetitively over the past week, as she has spent more time there during matches.
And Wambach is transparent about what this World Cup means to her.
"It's all that I'm thinking about, all that's on my mind," she said recently. "It's the thing that I haven't been able to be a part of, I haven't won yet. It's something that I know that all of us have to be willing to be forever disappointed in not winning. Because that's what it takes. You have to completely give in to it. You have to really allow yourself to be crushed by something. It's like love. And if we give into it, if all of us give into it, then I think we could have a chance at this."
But on Friday in a room full of press that quadrupled in size from the team's previous matches – the way it always does on the eve of a major tournament final – Wambach appeared more locked-in and to the point in her answers. Sunday's goal is simple.
"The truth is that I just want to be a world champion," she said.
July 5, 2015 is likely to be the second and perhaps only other date of a match that Wambach will ever remember. This time, she hopes the feeling is a good one.