Croatian giants Dinamo Zagreb has been rocked by the arrest of team president Zdravko Mamic and his brother Zoran (pictured) – who is the team's manager – by Croatian police on charges of tax evasion and bribery.
According to police, embezzlement and other criminal activity has cost the club around $17.3 million since 2008. Zdravko took over as chairman of Dinamo Zagreb in 2003, and hired his brother – a former player who made 171 league appearances for the club – in 2013.
The Mamic brothers are under investigation for their part in player transfers, for which the police say they took a cut of transfer fees for themselves. The club's most expensive sale in the past few years was the departure of young Croatian midfielder Mateo Kovacic, who they sold for a reported $12.2 million in January of 2013. They also sent defender Domagoj Vida to Dynamo Kiev for approximately $5.5 million that same winter transfer window, and sent striker Mario Mandzukic to Wolfsburg for $7.7 million in July of 2010.
Police also say the brothers have cost the government $1.8 million in evaded taxes by hiding the true values of the transfers. According to a report by the BBC, the government is hoping to keep the two men, plus two others detained, in custody until their trial, but a court has yet to rule whether that will be allowed. Should they be held, it could affect Zoran's availability to manage in Dinamo's upcoming Champions Leg qualifier against Luxembourg club Fola Esch, with the first leg to be played on July 14 in Zagreb.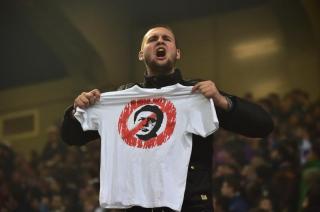 A statement on the club's website said, "Dinamo's entire staff, the squad and all of the club's employees fully back them as we are convinced they will prove that they are innocent."
With the club currently training in Slovenia, the brothers returned to Croatia when they heard news of police looking for their presence, and they were peacefully detained while crossing the border. Zdravko Mamic called the arrests "genocide" against himself and his family, and declared his intent to fight the charges.
According to the Associated Press, Zdravko is largely unpopular with the Dinamo fanbase, and there are often images of supporter backlash to his club control displayed at matches. Fans reportedly feel Zdravko is a greedy personality, likely fueled by previous reports of police investigations into his actions as club president.