United States women's national team coach Jill Ellis gets that text from her father, John, almost every day.
Deep breaths are what the Americans need right now. They are one win away from winning a Women's World Cup title that has eluded them since 1999. There is an air of anticipation lining the red, white and blue streets of Vancouver, intensifying the pressure on the United States women.
On Sunday, the U.S. will play reigning champion Japan in the final for the second straight World Cup and third straight major tournament. Japan won the 2011 World Cup and the U.S. defeated Japan in the 2012 Olympic gold-medal match.
[KASSOUF: Rise of Johnston, consistency of Sauerbrunn anchors U.S. run]
The U.S. has gained momentum over the past week, finally clicking in a victory over China in the quarterfinals which gave the Americans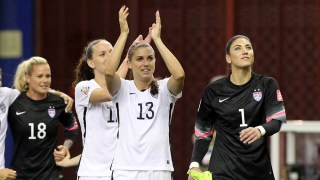 confidence, and then hitting full stride with a convincing victory over Germany in the semifinal. But as much as the mood around the team has shifted to overwhelmingly positive, it won't mean anything without a victory on Sunday.

"I think for a lot of us these last couple of days have been interesting because we don't want to get ahead of ourselves," U.S. forward Alex Morgan said.

"We haven't accomplished anything, but we know we're on the verge of something amazing."

Deep breaths.

These familiar foes face similar pressures of playing for more than just a World Cup title, but also for the further development of women's soccer in these countries. The NWSL in the United States and the L-League in Japan both struggle for attendance, sometimes dipping below 1,000 fans. (The current average attendance in the NWSL is about 4,100 fans, a number heavily distorted by Portland, which averages over three times that number.

[KASSOUF: Solidarity of Japan shows in honoring injured teammate Ando]

Four years ago the U.S. came home as heroes despite losing in the final (twice blowing a lead and then falling on penalty kicks). The throngs of fans the mobbed the streets and the media blitz the players received was in incongruous with the result: They had lost to Japan.

"I was shocked to see how well we were received after losing the game to Japan in 2011, because our hearts were broken," Morgan said. "We thought that we were coming back defeated and the whole country lifted us when we needed it. So I think regardless of what happens, I think we are going to be looked at as heroes. But for us to feel like we've done something for Abby [Wambach, U.S. forward], to feel like she can close a chapter of playing soccer, we need to get the job done on Sunday."

There is a common idea that the United States succeeding at the 2015 World Cup – something that one could argue the team has already done by getting to the title match – will lead to with increased success for the National Women's Soccer League.

But history yields no direct correlation. Players returned home in 2011 to crowds that swelled to over 15,000 fans as their popularity took off. But by that point, WPS – the domestic league at the time – was already dying and ultimately went under before playing a fourth season in 2012.

[KASSOUF: 2011 memory still burns Wambach | Lloyd, Brian revitalize US]

That struggle, however, is not unique to the United States. Japan captain Aya Miyama said on Saturday that she has seen a slight decline in the popularity of women's soccer. Much like so many of the crowds in the NWSL, the L-League sometimes plays matches in front of fewer than

"If we can win the World Cup again and make an impact on the girls who start playing soccer and we can make a legacy," Miyama said. "I hope that if we win this World Cup, we can make soccer part of the culture in Japan and not just a fad."

A World Cup title is all the motivation any player needs for Sunday. But there is a sense in being around the team and in the city that this World Cup final could blow the roof off of BC Place, but more importantly, women's soccer in both the United States and Japan.

"In terms of the desire to win, I think both teams are at the same level," Japan coach Norio Sasaki said.

Desire should make this game a doozy, which could mean big things back home for both countries.

VANCOUVER, British Columbia – "Three deep breaths. Keep going."