FRISCO, Texas — The U.S. men's national team labored — a lot at times — to a 2-1 victory over Honduras in both sides' 2015 Gold Cup opener on Tuesday night at Toyota Stadium.
From 2-0 up with 25 minutes to play, to hanging on by the skin of their teeth under a constant siege of Honduran scorings chances during the final 10 minutes, Jurgen Klinsmann's side is off and running as they look to defend their Gold Cup title.
A tournament like the Gold Cup is like a low-burning stove-top coil. With six games to play in order to lift the Cup, peaking in the first game is not unlikely and unattainable, it's actually highly unadvisable. Games 1, 2 and 3 don't need a full-on boil. It calls for a steady simmer before heating up in the final — where the USMNT will presumably face Mexico, at which point the pot not only boils, but the lid bursts off and critically maims anyone within six zip codes.
[ MORE: Previewing USA's Group A | Group B | Group C | The stars of CONCACAF ]
Three things we learned about the USMNT and Honduras during Tuesday night's 2-1 result:
1. John Brooks-and-Ventura Alvarado is not the USMNT's best center back pairing — or even close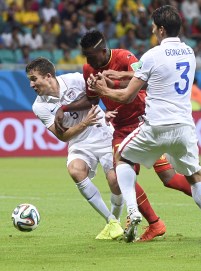 Where, oh where, to start with this one. How about here: Why, Jurgen? Why? At no point during his brief USMNT career, really, has Alvarado looked like doing more than furiously treading to keep his head above water. Even in recent victories over the Netherlands and Germany, in which Brooks and Alvarado started together, it's been dicey in the best of times and an absolute dumpster fire in the worst.
Omar Gonzalez, a right-sided center back with World Cup experience, was on the bench for 90 minutes tonight, while Alvarado struggled yet again with simple tasks, like putting his head to the ball, tracking runners at both the near and far posts, and communicating runners to Brooks. Major League Soccer center backs like Gonzalez, Matt Hedges and Steve Birnbaum could at least match Alvarado's performances to date.
As for Brooks, Tuesday wasn't terrible for the 22-year-old (yes, 22), but with Matt Besler, another World Cup veteran, not even on the roster, one can't help but wonder just how much Klinsmann is willing to risk either going out in the group stage or making their own path through the knockout rounds significantly less favorable, all in the name of playing a couple of young center backs with essentially no CONCACAF experience.
[ MORE: With the rest of CONCACAF making strides, it's time for the USMNT to do so, too ]
2. Gyasi Zardes as part of a midfield diamond just doesn't work — that's not his fault
Gyasi Zardes' ascension from collegiate athlete at Cal State Bakersfield, to MLS breakout star, and now a regular starter for the USMNT in the span of three years is really, really amazing, and something only possible in the American game. The problem is this: the majority — if not all — of Zardes' production over that time has come as one of two center forwards in a 4-4-2.
Where Zardes hasn't impressed — or even played much at all — is as a shuttling midfielder in a 4-4-2 diamond formation. On Tuesday, Zardes struggled — again — in that role, and did so for one big reason: in that area of the field, defensively, he's a total disaster, and though it's not for a lack of trying — positional awareness and whatnot — too many of the US's turnovers in midfield were immediately redirected into the left channel between Brooks and Fabian Johnson, which is exactly the space Zardes is supposed to protect.
Mix Diskerud can serviceably perform that role, as can Alejandro Bedoya (my personal choice) and Graham Zusi. It'd be a pretty big surprise — and a mistake — if Zardes is back in that spot Friday night against Haiti.
[ MORE: Reflecting on Michael Bradley from 1-99, as he hits 100 USMNT caps vs. Honduras ]
3. Andy Najar became a man in Belgium — look out, world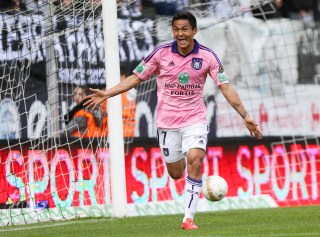 Andy Najar has spent the last two and a half years since leaving D.C. United of MLS playing for Belgian side Anderlecht. In that time, the 22-year-old has not only filled out physically and honed his craft while winning a pair of Belgian league and Belgian cup titles, but he's developed a killer instinct, as well, and that makes him one of the scariest players in the region.
On Tuesday night — particularly during the first half — Najar was an absolute nightmare up and down the right side of the USMNT defense. Timothy (he has to earn the right to be called "Timmy" again) Chandler not only couldn't deal with him, but every time Najar received the ball and turned to run at the US goal, a sense of impending doom crept over every last American fan inside Toyota Stadium.
For the game's first 45 minutes, Najar was the best player on the field by a mile, and if the rest of his Gold Cup performances from here on out mimic that of Tuesday night, he'll quickly rocket up not only the list of the best players in CONCACAF, but also the transfer lists of any number of major European clubs.