USA, Mexico, Mexico, Mexico, Canada, USA, Mexico, USA, USA, Mexico, Mexico, USA.
Spot an outlier in that list of Gold Cup champions?
[ MORE: Full 2015 Gold Cup coverage ]
Canada's 2000 Gold Cup title remains the only championship not won by the United States or Mexico, and it came through a fine blend of good fortune. After drawing both group stage games, Canada had to win a qualification playoff, then went through group play on a coin-flip after all three Group A matches were draws. They stunned Mexico and nipped T&T before shocking Colombia in the final.
Could they do it again? Well, here's another list:
Those are the predicted finishes in group play by our staff. Outside of myself and Andy Edwards, PST thinks Canada is destined for, at best, the slot above El Salvador. One writer thinks El Salvador will leapfrog them. Point being: For the most part, it would be a shock to see Benito Floro's team advance much further than the quarterfinals.
Here's three reasons I have Canada going all the way to the semis before falling to Mexico.
1) They're hosting Group B… and in this match order
Canada starts it tournament with El Salvador, a tricky enough side but — in my opinion — the clear struggler of the group. From that point on, it's Jamaica in Houston — a team they beat 3-1 last year — before presumed group winners Costa Rica at BMO Field in Toronto. If you need a result, it'll likely come at home against a team that won't necessarily need one.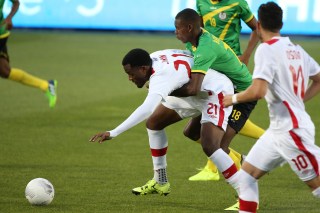 2) The strike force
The Canucks' strength comes up top, and there are few MLS prospects more intriguing than No.1 overall SuperDraft pick Cyle Larin. Orlando City's 20-year-old menace is brilliant on the ball and off, and is joined by FC Dallas' Tesho Akindele and Hapoel Haifa's Tosaint Ricketts.
3) The bracket
If Canada can manage second to Costa Rica, it has a very beatable opponent in the Group C runner-up (Our bet is Trinidad and Tobago). And the Group B runner-up is on the side of the bracket with one group winner.
Put it all together with some X-factors, namely that their "no-name" defense hasn't allowed a goal in four matches, and Canada could surprise you this month. Don't say we didn't warn you.