Clint Dempsey's 42nd and 43rd national team goals led a sloppy United States side to a 2-1 win over Honduras on Tuesday.
This wasn't the team that beat Netherlands and Germany in Europe, but fortunately the opposition wasn't up to the challenge. Both teams were sloppy throughout their 2015 Gold Cup openers, and the States were fortunate to come away with three points.
[ MORE: Player ratings | Three things ]
The U.S. moves to first place in Group A with the win, while Honduras slips to last. Haiti and Panama tied the earlier match.
The first bonafide chance of the game went the way of Honduras, with Brad Guzan diving to slap away an in-tight shot across the goal mouth from Antony Lozano.
Shortly after, the shaky start continued with a pair of corners conceded, though the Yanks were able to clear the ball. Andy Najar made it three solid chances with a distance try punched over the bar by Guzan before the clock hit six.
[ MORE: Panama 1-1 Haiti ]
The U.S. took the lead in the 25th minute, as DeAndre Yedlin played a short corner to Michael Bradley. The captain sent in a ball that pinged around until Jozy Altidore took a shot that Donis Escobar parried onto the head of Dempsey. 1-0, States.
Moments later, Yedlin squandered a chance to make it 2-0 thanks to awkward first touch off Fabian Johnson's gorgeous through ball. Escobar closed down the angle to turn the shot aside.
The second half started just as sloppy, and Jurgen Klinsmann made his first move just before the hour mark when he moved Chris Wondolowski on for Altidore.
Oh, and then Bradley! The new U.S. captain sent in a gorgeous, looping free kick into the space between the six-yard box and penalty spot. Dempsey rose to pound a hard header off the ground and past a slow to react Escobar. 2-0, States.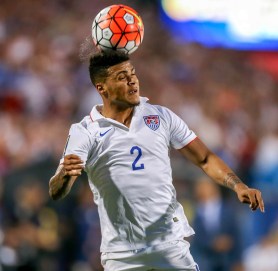 Carlos Discua narrowed the gap just a few minutes later when he left Alvarado woozy with a quick move into the box before burying a class finish past Guzan. Game on, 2-1.
Escobar barely kept a Bradley free kick off the line with a quarter hour to play.
The final 10-12 minutes saw the States looking like a mess. Criminal giveaways and matching possession saw the Hondurans deserving of an equalizer if not for substandard finishing.
Honduras received a late free kick after a Yedlin foul, but Acosta's shot was blocked by the wall.
Next up in Group A is a Friday doubleheader in Foxborough, with Panama and Honduras opening the evening for the U.S. and Haiti.
LINEUP
United States: Guzan; Johnson, Brooks, Alvarado, Chandler (Evans, 63′); Beckerman, Zardes (Zusi, 87′), Bradley, Yedlin; Altidore (Wondolowski, 59′), Dempsey.
Goal: Dempsey 2 (25′, 64′)