Following the release of NBC Sports' Premier League TV schedule for the opening two months of the 2015-16 season, there is a lot to get excited about.
Right off the bat we have title rivalries, derby games and a host of top clubs squaring off. Majestic.
[ MORE: TV schedule for Aug-Sept ]
30 more days until it all begins. 30 more days…
So, with exactly one month to go until it all kicks off, here's a look at some of the marquee matches which will take center stage on NBC and NBCSN in the opening seven weeks of the new PL season.
Manchester United vs. Tottenham Hotspur – Aug. 8, 7:45 a.m. ET on NBCSN
Fourth against fifth from last season do battle in the first game of the 2015-16 Premier League season. United will fancy their chances of getting off to a flier, especially after they battered Tottenham 3-0 in the corresponding fixture last season. Expect Harry Kane and Spurs to give Wayne Rooney's Red Devils a run for their money on the opening day.
Southampton vs. Everton – Aug. 15, 7:45 a.m. ET on NBCSN
Two of the most stylish teams in the PL lock horns at St. Mary's Stadium. Ronald Koeman's Saints will have Europa League fixtures to juggle in the early stages of the season, while Everton boss Roberto Martinez will be hoping to bounce back from a disappointing second season in charge at Goodison Park. The Toffees and Tim Howard lost 3-0 in this one last season. Expect silky skills and possession based soccer to dominate this outing.
Manchester City vs. Chelsea – Aug. 16, 11:00 a.m. ET on NBCSN
Boom. Right off the bat in just the second week of the season we have a clash between first and second from last season. City's Etihad Stadium will have been expanded and over 55,000 fans will witness the two best teams in the PL do battle. Expect fireworks at the Etihad as these heavyweights collide with Jose Mourinho and Manuel Pellegrini far from complimentary about each other in the past.
Arsenal vs. Liverpool – Aug. 24, 3 p.m. ET on NBCSN
We've had some incredibly entertaining encounters between these two sides over the years and this promises to be no different in the opening month of the season. Arsenal hammered Liverpool 4-1 at the Emirates last season. Can Arsene Wenger's side grab another marquee win early on in the campaign?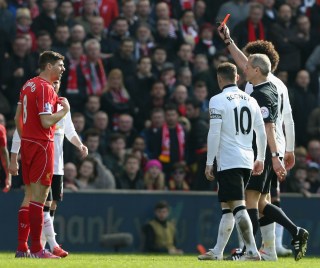 Manchester United vs. Liverpool – Sept. 12, 12:30 p.m. ET on NBC
Ah, one of the greatest rivalries in world soccer. With United pushing on under Louis van Gaal and Liverpool stalling with Brendan Rodgers and no Steven Gerrard around, winning this derby early on in the season would be huge for the Anfield club. If not, Rodgers is already the bookies favorite to be fired first… LVG knows how much this game means to fans and United won both games last season to rubber salt into Liverpool's wounds. Revenge will be on the minds of the Anfield club.
Chelsea vs. Arsenal – Sept. 19, 7:45 a.m. ET on NBCSN
A ding-dong London derby in the September sunshine should be a joy to behold. Famous Mourinho and Arsene Wenger got into a shoving match on the sidelines the last time these sides met at Stamford Bridge. Chelsea and Arsenal will do battle on August 2 at Wembley for the FA Community Shield and with Petr Cech swapping Chelsea for Arsenal this summer, there are so many storylines rumbling. Can Wenger get his first career win against Mourinho in either of those early-season clashes?