Tottenham Hotspur and the National Football League have agreed to a 10-year partnership which will see NFL games played at Spurs' new stadium from 2018.
In a statement on the website of the north London club, Spurs said that "a minimum of two NFL games per year" are to be played during "a 10-year partnership" at their new stadium at White Hart Lane.
[ MORE: Spurs, Chelsea battle for Wembley ]
Their current White Hart Lane home will be totally revamped in the coming years and Spurs also revealed updated plans as the venue will hold over 61,000 when completed, plus have a retractable turf pitch purely to comply with NFL standards.
Spurs also confirmed that "other NFL games may take place at different venues in the UK during the span of the 10-year agreement" which leaves the door wide-open for games to continue taking place at the current home of the NFL's International Series, Wembley Stadium, in London. The Jacksonville Jaguars, who have been linked on numerous occasions to moving the franchise to London, currently have a deal to play at least one home game per season at Wembley until 2016.
For the upcoming 2015 NFL season there are three regular season games scheduled to take place at Wembley, and NFL Commissioner Roger Goodell was delighted that an agreement has now been reached with Spurs.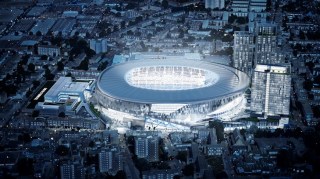 "With growing enthusiasm for the NFL in the United Kingdom, we are committed to hosting NFL games in world-class venues and are excited to partner with Tottenham Hotspur to play games at their future stadium," Goodell said. "We share a vision and commitment to creating the best experience for our teams, fans and the local community."
The redeveloped venue will sit on land currently adjacent to White Hart Lane, which has been Tottenham's home for 116 years. The entire community will benefit from the project that will see commercial and community facilities built that will include a hotel, health center and affordable housing to help transform the area.
Here is some more reaction on the agreement from Spurs' chairman and the Mayor of London.
"We have an opportunity now to deliver one of the most unique sports, leisure and entertainment venues in the world, bringing together the EPL and NFL for the first time," said Daniel Levy, Chairman of Tottenham Hotspur. "The socio-economic benefits this will bring to the area will be immense and demonstrates our commitment to the regeneration of this priority borough in London."

Boris Johnson, Mayor of London, welcomed the agreement: "Anyone who has seen American Football at Wembley Stadium cannot fail to have been thrilled by the spectacle, and the wise heads that run the NFL have clearly not missed the fact that Londoners are going absolutely gangbusters for Gridiron.

"We are already working very closely with the NFL, including on plans to get more Londoners involved in the sport, and we believe that building on the success of NFL at Wembley by staging more games in an area of the city that has been earmarked for a massive programme of economic regeneration and investment makes perfect sense.

"Touchdowns in Tottenham can only add to our reputation as a global sporting powerhouse, and help us take another step towards our goal of having a permanent NFL franchise here in London."
So, will the term "Touchdowns in Tottenham" catch on? Let's wait and see.
This deal also comes just a day after it was reported that both Tottenham and Chelsea were vying to use Wembley Stadium as their temporary home while their respective stadiums were being renovated. Maybe Spurs' new link-up with the NFL will give them some leverage to make Wembley home for a few years? Who knows.
One thing is for sure, the NFL is committed to London and now that they have a wide-ranging partnership with a Premier League club, it seems only a matter of time until a franchise pops up in England's capital.