Bastian Schweinsteiger. Morgan Schneiderlin. Memphis Depay. Matteo Darmian.
Those four players have all joined Manchester United so far this summer and with their signings come legitimate expectations that the Red Devils can once again challenge for the Premier League title in the upcoming 2015-16 season.
Louis van Gaal has done his business early this summer, compared to last season where he relied on a late barrage on deadline day. All four new guys were on the plane to the United States of America on Monday ahead of the Red Devils' preseason tour of the U.S. which kicks off this weekend in Seattle before shifting to California and Chicago.
[ MORE: Schweinsteiger signs | Schneiderlin arrives ]
Does this latest splurge on transfers mean United are now contenders to win the Premier League?
Let's break it down.
How big are these signings?
Potentially massive. United's central midfield has got a huge overhaul with Schweinsteiger's vast experience and Schneiderlin's energy set to complement each other perfectly. The Red Devils have also added Depay, a potentially prophetic attacking talent who has plenty of confidence in himself and if he hits the ground running, could become a key component. Italian international Darmian fills a desperate need with Rafael struggling at right back and his versatility gives LVG cover. Overall these four signings not only add depth but should all be starters when the season opener against Tottenham Hotspur (Watch live, 7:45 a.m. ET on NBCSN and online via Live Extra) rolls around on Aug. 8.
[ MORE: Wenger praises United's transfer deals ]
What more do United need to turn into genuine title contenders?
Even though they have spent over $115 million on four players so far, they still need more investment. Another commanding central defender is key if success is to arrive in the PL and the UEFA Champions League. Valencia's Nicolas Otamendi has been mentioned in dispatches but his transfer fee of over $50 million is putting United off.
Sergio Ramos is a long-term target and if any deal is reached with Real Madrid, it is likely to see David de Gea head in the opposite direction. More on that shortly. So, adding to the need for a center back is a center forward. Van Gaal will likely deploy a 4-2-3-1 formation so he may be fine with having Wayne Rooney, young James Wilson and potentially Depay in a central role, but rumors suggest Gonzalo Higuain could be a target to fill the spots left by the outgoing Robin van Persie and Radamel Falcao. Higuain's arrival would cost United another $100 million though. With Luke Shaw, Angel di Maria, Juan Mata, Chris Smalling, Ander Herrera and Marouane Fellaini all finding their feet towards the end of last season, they will also add to the feel-good factor among United's fans as they believe challenging Chelsea and Manchester City for the title is a legitimate target. Even though Chelsea continue to add thrifty additions like Falcao and Asmir Begovic, while City have spent big on Raheem Sterling.
Will there be outgoings?
So, the outgoings. De Gea is the main man who could leave this summer. Even though the Spanish international goalkeeper has flown to the USA for United's preseason tour, he only has one-year left on his current contract and Real Madrid are said to be interested after letting Iker Casillas leave. Watch this space. De Gea's back-up Victor Valdes has been left off the squad for the U.S. tour and could be heading to Turkey, so if De Gea does go then Untied will have a serious problem in goal. Di Maria could be another big name departure, with Paris Saint-Germain boss Laurent Blanc admitting his interest in the Argentine winger. United are stacked with wide players (Ashley Young, Antonio Valencia, Adnan Januzaj, Depay, Andreas Perreria and Jesse Lingard) so they could let Di Maria go if they get a good bid from PSG. That way they could reinvest in a forward or a center back.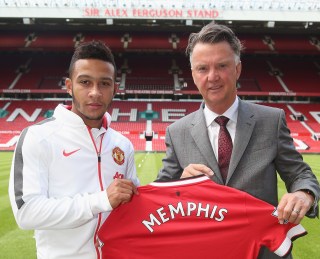 Pressure is on for LVG, but what would be a good season?
After spending $115 million so far during this transfer window and over $210 million last summer, van Gaal will be under a lot of pressure to improve on United's fourth-place finish in the PL last season. Of course, they will have to juggle their league responsibility with extra games in Europe but with a stacked squad full of young talent trying to impress LVG and the experience of Schweinsteiger and Rooney gelling things together, a top-two finish isn't out of the question. If the Glazer family, United's American owners, give Chief Executive Ed Woodward more money to spend this summer then he and LVG will be under pressure to advance to the knockout stages of the UCL and at least finish inside the top two of the PL.
If they finish third, that's fine, especially with Man City and Chelsea continuing to strengthen and Arsenal improving year-on-year. However, another struggle to finish fourth and failure in Europe would heap insurmountable pressure on van Gaal's sturdy Dutch shoulders. With big money signings comes big responsibility but the fact they will all get the chance to gel into United's team together during a full preseason in the U.S. will be hugely beneficial.
United's costly resurgence is in full flow but fans expecting instant success may have to curb their enthusiasm until the strength of their opponents in the upcoming season becomes a lot clearer. That said, these additions vastly enhance their chances of success for next season and beyond.