KANSAS CITY, Kan. — The US national team labored to another uninspiring result here at Sporting Park on Tuesday night in their final group stage game of the 2015 CONCACAF Gold Cup, a 1-1 draw with eventual Group A third-place finishers Panama.
[ FOLLOW: All of PST's Gold Cup coverage ]
On the night, the Yanks were out-shot by their Central American foes, 13 to 8 — the third straight game in which underdog opposition managed to out-create and out-shoot this tournament's co-favorited side — and once again looked worryingly unstable at the back, as they very nearly found themselves two goals down inside the opening 35 minutes.
And yet, despite all the above evidence pointing toward the contrary, USMNT head coach Jurgen Klinsmann believes his team is slowly but surely rounding into form and will — with a bit of luck — deliver their best performances at the most critical of times this summer.
"I think we're just getting our feet into the tournament, and the tournament pretty much starts now at the knockout stage," said Klinsmann upon completion of group play. "To go through this group and have seven points at the end of the day is a lot of work. … Now it's really getting to the serious stuff. The knockout stage — this is what a tournament is all about. … We can improve still a lot, absolutely, and that's what we're working for."
[ MORE: Three things we learned from USA 1-1 PAN | Player ratings | Full recap ]
Goalkeeper Brad Guzan and defender Ventura Alvarado were slightly less confident that the necessary improvements had been made over the group stage's three games, with both players citing a "need to be better" and Alvarado in particular lamenting his first-half performance against Panama.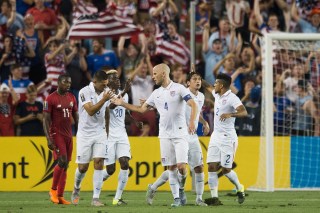 "Mentally, [after] the first half, I felt real bad," said Alvarado after the game. "I was real bad and I mentally got mad with [myself]. I was like, 'I'm going to give it my all, I don't have anything to
lose.' It wasn't a great game for me, but I have to keep my head up."
"We know that the first half wasn't nearly good enough — again," said Guzan. "It's not always easy when [players] come in and come out and come in and come out, so for them it was always going to be a difficult game. … We know that we need to put together a 90-minute performance. We know that now, going forward it's about results, it's about finding a way to win, grinding out the games, pretty or not. … We were turning the ball over, we were causing our own difficulties at times."
[ MORE GOLD CUP: HAI 1-0 HON | MEX 0-0 GUA | T&T 2-0 CUB | CRC 1-1 SLV ]
It was that depth that Klinsmann pointed to, though, as a main source of confidence that his side's best is still yet to come in this Gold Cup. Having heavily rotated the starting lineup in games two and three, Klinsmann now feels he can lean on any number of players up and down the roster once things shift into do-or-die mode in the quarterfinals, where they'll face a third-place team from either Group B or C.
"The good thing about rotating the [team] throughout those three games was that we wanted to get everybody in this tournament," said Klinsmann. "Like Alejandro [Bedoya] today, like Alfredo [Morales] today, we need to see where they are so we can count on them moving forward. … This was definitely the advantage of our group phase, that we could already have pretty much everybody in the tournament and we don't have a drop between the starters and the guys on the bench."
Klinsmann has 24 hours to make up to six changes to the current squad before his 23-man roster is locked in throughout the entirety of the group stage — something about which he has "some ideas." An official announcement is expected Tuesday.