TORONTO, Canada — Is it possible that Benito Floro got it wrong at the Gold Cup, but is getting it right on the whole?
That has to be the hope of Canadian soccer fans, who watched their nation complete a second consecutive goalless Gold Cup on Tuesday after a 0-0 draw against Costa Rica at BMO Field.
Make no mistake about it: Canada is moving forward under Floro, the former Real Madrid, Monterrey and Villarreal boss. But in sticking to his systematic guns, the manager cost his team its chance at the knockout rounds.
[ FOLLOW: All of PST's Gold Cup coverage ]
"Throughout the 90 minutes, we probably did deserve the win," said Canada captain David Edgar, the Birmingham City man who is absolutely what a team like Toronto FC needs, by the way.
"It's tough to take, again, not scoring. But from the defensive point of view, we've not conceded again and to teams that are ranked higher than us… It's a draw against Costa Rica. They are a great team and we are moving forward and we want the fans to know that."
Canada, honestly, was better than Costa Rica in a match where both teams needed the result, but it also needed a goal. Any win puts them through, and you need goals to do that. A 0-0 draw sends them home, but a 1-1, 2-2 or 3-3 draw gets them anything from elimination to a possible coin toss to straight through (depends how Group C plays out).
Floro bristled at the suggestion that Canada was a defensive team, and took umbrage with the theory — admittedly proffered by me — that he could've stood to risk more given the strength of Edgar and Sporting KC's Marcel de Jong in the back.
"In our second half we changed our style of play to 50/50 because we need to finish the game because it's not enough to dominate and to win clearly against Costa Rica, but this is not our style," Floro said.
[ MORE: Jamaica 1-0 El Salvador | USL fill-in saves Jamaica's day ]
That might not be that style, but playing that style scared the you know what out of Costa Rica, especially once Russell Teibert entered the game and electrified Canada's attack. In fact, Teibert played like the No. 10 Floro maintains he doesn't have.
"I hope you understand me, don't think I am opposite of your opinion," Floro said. "What matters is how many chances do you have with a formation. How many do you not have?"
He asked why we didn't call Jamaica, Costa Rica or El Salvador "defensive" for scoring 0 or 1 goal against his side. And that's easy: because Jamaica scored in every game.
"We need to help, to support our players because it is very important for us to have a good feeling in how we're working hard," Floro said. "We played all our games with no fear."
And that's right, but do you think they understand that they've sacrificed their Gold Cup for a long-term goal that could still elude them? Floro said Canada needs to add a first and second division of just Canadian teams, and that its youth teams all play the same style.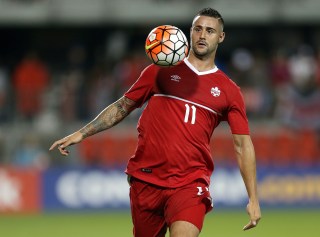 Canada's Gold Cup is over, prematurely, some might say. Floro rightly pointed to absences, which is also correct. Will Johnson, Atiba Hutchinson and Doneil Henry almost certainly flip the script on one of these matches.
Knowing that, it makes it even harder to stomach Floro's lack of risk. Costa Rica coach Paulo Wanchope said he knew Canada would play direct to its No. 9 (Marcus Haber) and Floro kept it loyal. Canada's tournament ended with Tesho Akindele on the bench, and both Teibert and Cyle Larin getting just over 20 minutes each to make an impact. Any one of them running off of Haber for even 45 minutes could've been the tipping point.
Even the anti-Jurgen Klinsmann crowd recognizes the coach's willingness to take breaks from his long-term possession and flair-based vision in order to grab a result at a meaningful moment. This was one of those moments, and Floro wouldn't deviate.
So there's no reason to think Floro's ideas won't work long-term, but in the short-term there's reason to wonder why he didn't adapt when the tournament demanded it.