EAST RUTHERFORD, N.J. — Costa Rica held Mexico scoreless for 120 minutes tonight, but they couldn't stop the referee from making a poor decision with just seconds left to go in the match.
Mexico was awarded a phantom penalty kick in stoppage-time of extra-time, and Andres Guardado converted to send El Tri into the Gold Cup semifinals.
[ FOLLOW: All of PST's Gold Cup coverage ]
Although Mexico had the better run of play throughout the match, they failed to score for two hours and only advanced through a gift from the referee. So what did we learn at MetLife Stadium?
MEXICO DESPERATELY MISSES CHICHARITO
This match was scoreless after 120 minutes, but that's not because there weren't any chances. Mexico had golden opportunities throughout the match to grab a goal, but failed to find the back of the net. Yes, Esteban Alvarado made some great saves for Costa Rica, but the amount of opportunities wasted by El Tri was massive. Firing over the net, hitting the post, or just straight shanking shots wide, Mexico really could have won this game 3-0 or 4-0.
One of the reasons for the lack of scoring was the absence of Javier "Chicharito" Hernandez and Giovani dos Santos. Dos Santos was injured in the group stage, and Chicharito was ruled out of the tournament after breaking his collarbone in a friendly earlier this summer. One would have to think if either of these strikers was in the match, Mexico would have found that crucial goal. They may have scored six against Cuba and four against Trinidad & Tobago, but in a tight match like tonight in front of 74,000 fans, you need someone to come through in the clutch.
COSTA RICA'S MAGICAL WORLD CUP RUN WAS JUST THAT. MAGIC
Tonight was Costa Rica's best match of the 2015 Gold Cup, and they were outplayed for long spells and eventually lost. After Los Ticos' unbelievable run to the World Cup quarterfinals last summer, many thought Costa Rica was ready to challenge the United States and Mexico for CONCACAF supremacy. They came into the Gold Cup as one of the favorites, and are now headed home after the quarterfinals.
In the three group stage matches, Costa Rica managed three draws, including a poor showing against El Salvador and failing to score against Canada. Although they created some opportunities tonight, they were again held scoreless and were lucky Mexico couldn't hit the broad side of a barn. The penalty decision from the referee clearly stole a chance to win in a shootout from Los Ticos, but the match shouldn't have even gotten to that point.
Costa Rica's World Cup performance in Brazil was magical. After their performance in the Gold Cup, it looks like they might have no magic left.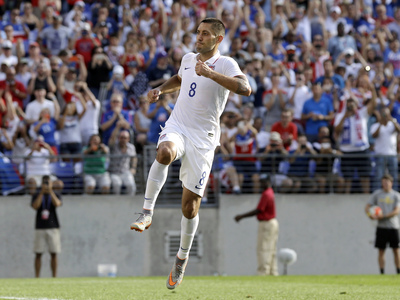 A UNITED STATES vs. MEXICO FINAL IS LOOMING
The United States faces Jamaica while Mexico takes on Panama in the semifinals, but it's looking more and more likely that the U.S. and El Tri will meet once again in the Gold Cup final. If they do, that would mark their sixth finals meeting in 13 tournaments, including four of the last five.
Jamaica is a strong side that has been in good form as of late, but in all honesty, the Reggae Boyz will still be huge underdogs against the USMNT. Panama was far from convincing in their penalty shootout win over Trinidad & Tobago in the quarters, while Mexico will be looking to prove it wasn't luck that brought them this far.
The United States and Mexico have been the two best teams in CONCACAF for some time now, and if both sides continue playing as they have, they'll meet in Philadelphia next Sunday.