Louis van Gaal is having a little bit of fun, isn't he?
[ MORE: Mourinho names top transfer target ]
After first claiming that he may make "a surprise" move for a striker, the Manchester United boss spoke to the media at San Jose airport ahead of the Red Devils' International Champions Cup match against the San Jose Earthquakes on Tuesday.
Van Gaal, 63, was asked about his comments regarding a "surprise" striker arriving at United this summer. This is what he had to say.
"It is not a striker that the media has written," van Gaal said, teasingly. "But you have to wait and see. The transfer period is open until September 1 so we have to wait."
With reports linking Edinson Cavani, Gonzalo Higuain, Harry Kane, Christian Benteke and now Thomas Muller to United, who else is left that the Red Devils may make a move for? Looking around the Premier League, could van Gaal and United really look at someone like Charlie Austin from QPR, Graziano Pelle from Southampton or perhaps Saido Berhaino from West Bromwich Albion?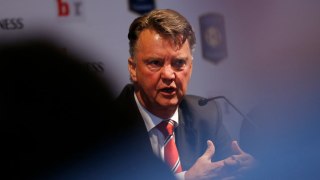 All three reached double figures in the PL last season and out of them, Berahino would seem to be the most likely as the young English striker has scored against United home and away in his short career. But, it could be anyone. The mystery remains over this "surprise" striker.
As for the reports linking United with a move for Real Madrid's defender Sergio Ramos, van Gaal was just as cryptic.
"I cannot talk about these rumors. I have said already in a lot of press conferences, it's a process, and maybe Mr. Ramos is in the process… you never know."
Hmm. Keep those cards close to your chest, Louis.