Plenty of rumors are flying around about Manchester United making a bid for Bayern Munich forward Thomas Muller, and one of his Bayern teammates says it could be possible.
[ MORE: Drogba to Chicago, Montreal? ]
Muller, 25, has been at Bayern his entire career but after a few reported heated exchanges with manager Pep Guardiola over the past few years, rumors regarding his future lying elsewhere continue to circulate.
Now his teammates Philipp Lahm believes that Muller leaving Bayern isn't as impossible as it would seem.
Lahm, who played for Bayern during a 1-0 win over Inter Milan in a friendly in Shanghai on Tuesday, believes Muller could leave if a big offer comes in.
"It's not my decision," Lahm said. "Things can happen very quickly in football. I certainly can't provide any guarantee for Thomas Muller [staying]."
The legendary defender, who has spent 10 years at Bayern and captained Germany to World Cup success in 2014, said he would never leave Bayern and at the age of 31 he is still a starter for Guardiola's side. And when asked if Bayern would be damaged by first losing Bastian Schweinsteiger to Manchester United and now the possibility for Muller to leave, Lahm was bullish that the Bavarian club are still a big deal on the world stage.
"We're still a top club," Lahm added. "We've reached at least the semifinals of the Champions League in recent years and we have a top team who would be playing at the top in any league. We certainly don't need to have any fear."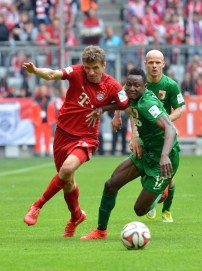 That said, Bayern will be fearful of what lies ahead should Muller leave the Allianz Arena for Old Trafford with both Franck Ribery and Arjen Robben increasingly injury-prone over the past two seasons. Muller has scored 121 goals in 304 appearances for Bayern since current United boss Louis van Gaal gave him his chance in the pro ranks during the 2008-09 season when he was in charge of Bayern.
Will the two be reunited at United? It would take a bid in excess of $100 million to pry away the darling of Bayern, but as we've seen over the past two seasons, United clearly have the financial firepower to make such a move reality. Van Gaal has already said he may bring in a "surprise" striker before the summer transfer window ends and it wouldn't only be surprising if Bayern let Muller leave, but also a big blow to their hopes of European success.
The man who calls himself the Raumdeuter could soon be marauding around in Manchester instead of Munich.