The Georgia Dome hosts two Gold Cup semifinals on Wednesday as the U.S. national team takes on Jamaica, while Mexico and Panama also square off for a place in the final.
[ MORE: All of PST's Gold Cup coverage ] 
Jurgen Klinsmann's men have breezed through to the final four but will have a tough test against the Reggae Boyz. As for Mexico, they've been up and down throughout this tournament and come up against a Panama side who were runners up in 2013. A huge crowd is expected in ATL, as every ineis hoping a huge U.S. vs. Mexico final is set up for Sunday in Philadelphia. The winner of that match will not only win the Gold Cup but will also represent the CONCACAF region at the 2017 Confederations Cup in Russia. High stakes, indeed. 
Below is a brief primer on what to expect from both games, while you can follow the action live by clicking on the link above.
Game 23: USA vs. Jamaica
When: Wednesday, 6 p.m. ET
Where: Georgia Dome, Atlanta, GA
Live updates: NBCSports.com
Klinsmann will lean heavily on Clint Dempsey to do the damage up top and he'll likely start just off Aron Johannsson. Here is an in-depth look at how they USMNT will start, but they may struggle to break down a stubborn Jamaican defense who have improved as the tournament has gone on. Winfried Schafer's side are the underdogs, but the U.S. have always found facing the Reggae Boyz difficult when you look back at several World Cup qualifying campaigns in the past. Expect an intense battle in midfield as Rodolph Austin and Michael Bradley lock horns. The USMNT have looked a little uneasy in the central defensive area all tournament, and may be put off by the pace of Darren Mattocks and Jamaica's poacher Giles Barnes. Toughest test of the tournament so far for the U.S.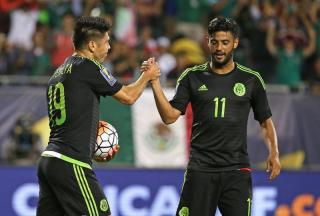 Game 24: Panama vs. Mexico
When: Wednesday, 9 p.m. ET
Where: Georgia Dome, Atlanta, GA
Live updates: NBCSports.com
El Tri just haven't quite got going so far this tournament, but then again they have been riddled with big injuries to the likes of Hector Moreno, Javier Hernandez, Yasser Corona and Giovani dos Santos. Luckily for head coach Miguel Herrera, Dos Santos looks likely to feature against Panama and on paper, Mexico will be the favorite to advance. Panama has stuck in their and secured a gutsy penalty shootout win over Trinidad and Tobago to reach the semis. Goalkeeper Jaime Penedo may be a busy man in goal for Los Canaleros, but Mexico must regain its scoring touch as Carlos Vela and Oribe Peralta have missed numerous chances in their last three matches.  This could be a tight one.