Following the USMNT's shocking 2-1 loss to Jamaica in the Gold Cup semifinals in Atlanta on Wednesday, plenty of questions are being asked of head coach Jurgen Klinsmann and his players
[ MORE: Recap | Player ratings ]
Rightly or wrongly, his future as the leader of the USMNT is being debated by many fans and pundits with a poor 2015 Gold Cup campaign culminating in a huge upset against Jamaica. After four years in charge of the U.S., has their been real progress under the German coach?
[ MORE: Klinsmann refuses to blame players ]
Let's break that down and more by assessing the current situation.
Is this a knee-jerk reaction to a poor Gold Cup campaign?
People calling for Klinsmann's head seems a little premature, it has to be said. Yes, the U.S. has reached the Gold Cup final in the last five tournaments and had said winning this trophy was a must, but they came up against a talented Jamaica side who have spent all summer together and have conceded just six goals in eight games of tournament play. Impressive. What hasn't been impressive is the play of Klinsmann's side. There has been a lot of rotation in the lineups throughout this Gold Cup but squeaking past Haiti and Honduras to open up, then a 1-1 tie with Panama showed plenty of cracks. Especially at the back.
When it came down to the big game against Jamaica, Brad Guzan was at fault for both goals and the central defensive partnership of John Brooks and Ventura Alvarado just didn't work. In particular the defending on Darren Mattocks' header from a long throw on the first goal was woeful. Klinsmann will get a reprieve for now and should remain in charge until the Confederations Cup playoff in October, but if the U.S. loses to either Jamaica or Mexico in a few months time, the writing could be on the wall.
Progress since 2011 has been minimal
Soccer is a results business. We all know that. Look at the constant chopping and changing of players and coaches across the globe in order to try and achieve success. Klinsmann took charge in 2011 and has won a Gold Cup and lost in the semifinals, got to the last 16 of the World Cup and won World Cup qualifying. In the cycle before him former USMNT manager Bob Bradley won a Gold Cup, got to the last 16 of the World Cup and won World Cup qualifying, plus came second in the 2009 Confederations Cup and was runner up in two other Gold Cups. Right now, it is hard to suggest that there has been progression under Klinsmann in the last four years despite marquee friendly wins in Europe against Italy, Holland and Germany. Sure, they were great, but when it comes down to tournament play and the games that really matter, the jury is still out.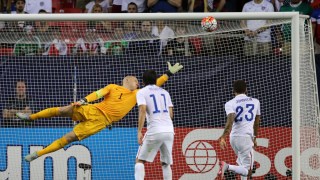 Defensive issues remain
One of the head-scratching decisions this summer was the fact that Klinsmann persisted with Brooks and Alvarado as a central defensive partnership. Both are young and inexperienced on the international stage and Klinsmann wanted to test them. Time and time again they just weren't good enough and how Omar Gonzalez and Tim Ream didn't both, or at least one of them, start against Jamaica is baffling. Leaving Matt Besler at home despite him being a starter at the 2014 World Cup last summer seemed to be almost a punishment for his comments and those of his manager at Sporting KC, Peter Vermes, when Klinsmann questioned the fitness of several experienced players in his squad in January. During the post-World Cup friendlies, late collapses were commonplace as defensive partnerships were changed time and time again. Due to MLS not being on a FIFA schedule, it makes it hard for Klinsmann to keep the same group of players together year round. But he must find a way of doing that and building continuity, especially in the defensive areas. One thing is for sure: veterans Tim Howard and Geoff Cameron should come straight back into the team for the September friendlies.
Handling of Dempsey, Altidore a concern going forward
Deciding to strip Clint Dempsey of the captaincy for his hissy-fit when playing for the Seattle Sounders was a bold move from Klinsmann and seemed to work for most of the Gold Cup as Deuce scored six times in five matches. But now what? With the captaincy handed to Michael Bradley and the U.S. failing to make the final, what will Dempsey's relationship with Klinsmann be like going forward? Far from positive is the likely answer. As for Jozy Altidore, his omission from the U.S. squad after the Gold Cup group stages due to fitness issues has seen Klinsmann ostracize Altidore and the Toronto FC forward will rightly feel bemused by the decision. Sure, Jozy might not have been fully fit but is a 70 percent fit Alitdore a better option than Alan Gordon or Aron Johannsson? I'll let you decide that. Dempsey is the second-highest scorer in U.S. history, Altidore is in fifth. Both may now be feeling hard done by and that could backfire massively against Klinsmann if his two top goalscorers are unhappy.
If Klinsmann was fired, could USMNT hire anybody better?
I threw this question out on Twitter directly after the defeat to Jamaica and, understandably, there was plenty of buzz surrounding Klinsmann's tenure so far and if anybody else could do better. Granted, U.S. fans want their team to succeed like any other fan of a national team, but most are intelligent enough to realize this program has come a long way in a short space of time. With huge improvements in the way all teams are set up from youth level right through to the first team, Klinsmann has done a lot of good things structurally for the U.S., just like he did for Germany before and during the 2006 World Cup. But with Joachim Low kicking on the German national team in recent years and grabbing World Cup glory in 2014 following the foundations Klinsmann successfully laid, do the U.S. now need a fresh figurehead to build on Klinsmann's project?
It is a question worth asking but another question remains: is there anybody out there right now better than JK? The last thing the U.S. needs to do is gamble on another coach and have things not work out. That could set them back years. Klinsmann holds the role of technical director with U.S. Soccer and has a deal through the 2018 World Cup. If U.S. Soccer fire him anytime soon, that would mean paying huge amounts of cash in compensation to Klinsmann. I'm not sure that's something they can afford to do, especially if they don't have a top-class replacement lined up to build on the foundations he has put down.
What next?
As the disappointment of failing to reach the Gold Cup final sets in, the U.S. must now regroup and play in the third place match against Panama at PPL Park in Philadelphia on Saturday. After that, friendlies against Peru on Sept. 4 and Brazil on Sept. 8 await. However, the big game on the horizon for Klinsmann and his players is the Confederations Cup playoff in October. No date is confirmed for that game, but it will be played on U.S. soil against either Mexico or Jamaica to decide which nation will represent CONCACAF at the 2017 Confederations Cup in Russia. If the U.S. lose this one-off playoff game, Klinsmann will be under intense pressure and serious questions will be asked about his future with the USMNT.