Friends, it's over. It's safe to come out from your hiding pla…wait, I lied, the American soccer universe is currently a raging inferno. No one is safe.
On Saturday, Jurgen Klinsmann's US national team fell to Panama, 1-1 after extra time and 3-2 on penalties, in the third-place game of the 2015 CONCACAF Gold Cup. It was a fitting end to the Americans' tournament, in which they looked less "revolutionized" than they looked like the team we sent to the 1998 World Cup in France.
[ FOLLOW: All of PST's Gold Cup coverage ]
The 2015 Gold Cup team was constructed and performed much more poorly than the 2011 Gold Cup team for which Bob Bradley was fired, and Klinsmann was subsequently hired. Here's three things we learned about Klinsmann and the USMNT during their failed run during this month's Gold Cup.
1. The standard of CONCACAF is steadily improving, but the USMNT might not be
Way back on July 6, I wrote these words about how the rest of CONCACAF has steadily improved over the last two, four and even 10 years. I pointed to Costa Rica's run to the World Cup quarterfinals last summer and Panama's double-defeat of Mexico at the 2013 Gold Cup as just two examples of the rising tide in North and Central America and the Caribbean.
This Gold Cup further enforced my belief that teams not named the US and Mexico — Jamaica, this year's finalists, as well as Trinidad and Tobago and Panama — are quickly catching up to the "big two" of the region.
This was the USMNT's chance to show that while everyone else was improving, they were, too. Instead, they laid egg after egg after egg and finished fourth — their second-worst showing ever (2000).
Guy who says he'll get the US to a higher level thinks he could have maybe won a CONCACAF title. https://t.co/NqVsSqRoaR

— Kevin McCauley (@kevinmccauley) July 25, 2015
Ahead of the start of World Cup qualifying, the USMNT not only finished, but routinely looked, the fourth- or fifth-best team in CONCACAF. Klinsmann took over a CONCACAF power, and they are currently anything but that.
[ FULL RECAP: USMNT falls to Panama in penalty kicks, finishes 4th at Gold Cup ]
2. Klinsmann preaches "learning" and "improving," but refuses to do any of it himself
It's Klinsmann's way or the highway — silly things like logic, precedent or results be damned. We've known that since, well, basically the beginning of time. What we didn't expect, however — or, at least I didn't — was for Klinsmann's insistence on doing things his way to routinely cost the USMNT not just games, but tournaments (the entirety of the 2014 World Cup comes to mind).
Example: Young defense struggles mightily throughout the group stage and shows lots of signs of bad things to come, but Klinsmann refuses to call up a Matt Besler — who's playing extremely well for Sporting Kansas City, by the way — when given the chance to make six roster changes before the knockout rounds. Instead, it's ride-or-die with John Brooks and Ventura Alvarado (both 22 years old). Spoiler alert: they died, and now Klinsmann should be answering the kind of questions he so often sidesteps with ease.
For instance, "Why would you, after failing so miserably during the Gold Cup, say you're going to roll with a largely unchanged roster for the one-game playoff in October to determine CONCACAF's representative at the 2017 Confederations Cup?" You probably think I made that up, because it's so stubborn, right? Wrong.
Jurgen on team he'll choose for Confed Cup playoff: "It won't be totally different. It will be very similar."

— Brian Straus (@BrianStraus) July 25, 2015
We know that Klinsmann is virtually untouchable in terms of his employment, but is too much to ask for Klinsmann to hold his hands up and say, "I need to be better, too, not just the players?" Klinsmann acknowledging that he, just like his players, had a poor tournament isn't asking for the world.
[ PREVIEW: Mexico, Jamaica to do battle in Gold Cup final | Officiating errors impacted Panama in SF ]
3. Clint Dempsey is still "the guy," but he needs help
Ol' Deuce, despite his paper-tearing ways, remains as reliable as ever as the USMNT's talisman. In fact, Klinsmann's decision to remove the captaincy from over Dempsey's head was 100 percent the right decision. Not only did Dempsey say so himself, but he looked like the Dempsey that USMNT fans have come to expect — and the team to rely upon — throughout the entire tournament. In truth, Dempsey is perhaps the only player for which that can be said.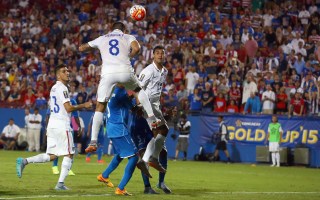 Seven goals in six games is unquestionably an impressive haul for Dempsey, but one can't help by wonder if it could have been more had he forged a successful forwards' partnership with someone — anyone. It wasn't working with Jozy Altidore during the group stage, and though the 6-0 victory over Cuba might indicate otherwise, it didn't happen with Aron Johannsson during the knockout rounds, either.
The USMNT was out-shot by a total of 93 to 62 during the Gold Cup. By five CONCACAF teams. Not Germany, or Brazil, or Argentina, or Spain. Honduras, Haiti (21 to 6!!!), Panama (twice), Cuba and Jamaica.
Gyasi Zardes looked promising during stretches, but he's still a 23-year-old with less than three years of professional experience. Johannsson showed better than he has at any other point of his international career, but he's wildly inconsistent at best, and maybe too similar to Dempsey for the two to ever really work well together.