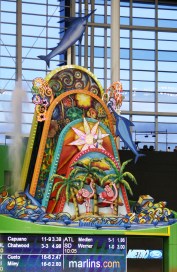 Remember just seven short days ago when it was announced that the city of Miami had voted unanimously to allow the prospective MLS franchise ownership group headed up by David Beckham and Sprint CEO Marcelo Claure to begin negotiations with the city over land acquisition and compensation?
[ FOLLOW: All of PST's MLS coverage | Expansion ]
Everyone was so excited and hopefully that finally this was the deal to get done. I cautioned the masses, though: "Much like the ongoing stadium situation in Washington, D.C., I'll believe this one (Miami) is really happening not when a shovel goes into the ground, but only when the first ball is kicked."
It wasn't that I was being a Debbie Downer, but having seen MLS stadium deals fall apart plenty of times before (including in my hometown of Kansas City), I'm conditioned to think that way. On Thursday, Miami Today, a South Florida newspaper with presumably well-placed sources, filed this report on some of the parameters within which a soccer-specific stadium next to baseball's Marlins Park — the proposed site for Miami Beckham United's stadium — would have to work.
The list is…uh…extensive, and debilitating for a soccer team next door.
From Miami Today (bolding for emphasis is mine):
One restriction is that soccer can't sell stadium naming rights until baseball sells its own. But the baseball stadium is in its fourth season and the team still can't sell those rights because the stadium giveaway deal became a toxic issue.

Further, even if the Marlins someday sell stadium naming rights, soccer can't sell rights that conflict with the Marlins' stadium sponsor.

…

No soccer exterior ads may conflict with a major Marlins sponsor. But if soccer sells an exterior ad that doesn't conflict, the Marlins can then sign a conflicting sponsor and the soccer sponsor can't renew.
OK, that's pretty lame and somewhat petty on the Marlins' part, but I suppose I get it. You know, in a "does it really matter" kind of way. Whatever. Let's continue.
Soccer stadium architecture must mesh with baseball's and not reflect light toward it. The Marlins get to review all soccer stadium plans, specifications and leases before construction or lease execution.

Soccer stadium construction may not interfere with baseball from two hours before to one hour after a ballpark game or an event – events Marlins owners book and profit from.

No soccer could be played until four hours after baseball. The Marlins get first choice of dates and times.

The soccer team can't schedule any games at home from March 15 to Nov. 15 until the Marlins choose their own dates. The soccer team gets the leftovers, though a soccer team would get 13 Saturday nights yearly that the Marlins leave clear.

All that's well and good, but if the Marlins change their schedule, guess what? The soccer team automatically loses its reserved dates. It's all up to the Marlins.
The Marlins, a team with an average home attendance of 21,713 in 2015, are the proud owners of a 42-60 record (13 games out of a playoff place).
Then there are those garages the city built and owns. By contract, the Marlins buy spaces for $10.03 and then resell them for whatever – they're selling parking July 30 at $15 to $20 a space, but the Aug. 11 game against Boston is $20 to $50 for city-owned spaces the team gets for $10.03.

The baseball contract requires that soccer not pay less than the Marlins do: $10.10 a space by the time a soccer stadium opens. Again, baseball gets first dibs: the Marlins get first choice for games or events from March 15-Nov. 15.
In short summation, the Marlins' deal is sweetly set up not only to help them succeed — which, again, they aren't even doing — and restrict a prospective soccer team next door. This isn't at all what I expected when I remained cautiously optimistic over a stadium being built in Miami, but then again, that's politics and business.
Of course, it's entirely possible that Beckham's group has known about these restrictions from day one — they originally shunned the Marlins Park site in hopes of setting up shop on a waterfront piece of property — and are so desperate to get a deal done in the next three months — when Beckham's significantly discounted franchise fee of $25 million expires — that they'll happily accept the above terms and conditions.