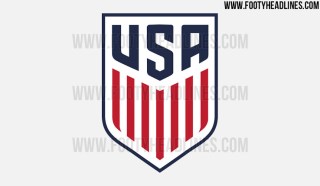 Feast your eyes on that, American soccer fans. How does it make you feel? How would you feel if it was the new, full-time US Soccer logo/crest?
[ MORE: Chicharito has $10 million offer from MLS, 24 hours to decide his future ]
Because, if a report by notorious soccer gear site FootyHeadlines.com is to be believed — have a look at some of the USMNT/USWNT jerseys they've successfully reported in the past —  you're going to be seeing a lot of it in the not-so-distant future.
According to the FootyHeadlines.com report, the above crest will be introduced and used for all US Soccer branding beginning in 2016, reportedly ahead of the Copa America Centenario — assume that tournament goes ahead.
[ MORE: Aron Johannsson completes $5 million move to Bundesliga side Werder Bremen ]
Personally, I think it's a huge improvement over the current US Soccer crest, which as a very basic-level failure, doesn't even use the same shades of red and blue as featured in the flag of the United States. The leaked design at least does that.
The fact that it looks a lot like that of the Centennial celebration line from 2013 — my personal favorite USMNT/USWNT kit of all time — is another plus point in my book.
Thoughts? Opinions? I know we're all design and fashion experts when it comes to matters of soccer jerseys, boots and crests. Let's hear it in the comments section below.