As the 2015-16 Premier League season gets ready to spread its wings this weekend, Pro Soccer Talk is getting you ready with a week full of projections, lists, news and views.
It has been exactly 836 days since Manchester United last lifted the Premier League trophy. For the non-mathletes among us, that means two PL seasons.
[ MORE: Season previews of all 20 PL teams ] 
While that doesn't sound all that long to someone who doesn't support the Red Devils, that's practically an eternity in Man United years.
Thus, the spectacularly expensive rebuild under the new direction of Louis van Gaal ($356 million spent in his two summer transfer windows in charge) has been universally welcomed by the Old Trafford faithful. But to what effect has the Dutchman overhauled an aging, stagnant squad and turned them into Premier League title contenders?
Van Gaal's first transfer window, in the summer of 2014, could be described, largely, as a flop. He splashed out $99 million for Angel di Maria, who scored just three league goals last season and left the club for Paris Saint-Germain a year later, for a fee of $68 million — not only was Di Maria largely a flop while at Man United, he cost the club a loss of $30 million in just 12 months.
Van Gaal's other big buys — Ander Herrera ($48 million), Luke Shaw ($45 million), Marcos Rojo ($27 million) and Daley Blind ($24 million) — all proved to be varying levels of "meh" in their first seasons at Old Trafford, as well.
[ RELATED: Petr Cech's Arsenal arrival — the final piece for a real PL title challenge? ]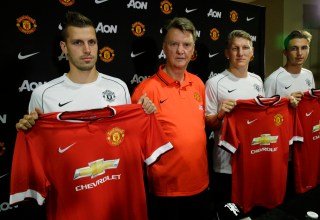 United's signings in the summer of 2015 look to be less "this player is available, so we should sign him" (Di Maria) and more "this player fits a very specific need of ours, and he's really good, so we should sign him." That goes for all four of Van Gaal's latest recruits — Memphis Depay ($48 million), Morgan Schneiderlin ($39 million), Bastian Schweinsteiger ($22 million) and Matteo Darmian ($20 million).
The problem with United's title chances in 2015-16 is as follows: As outlined in yesterday's piece regarding Arsenal's title hopes, of the last 13 Premier League champions, all 13 possessed either one of, or both, the league's top defense or attack, measured by goals conceded and goals scored.
United finished the 2014-15 season the fourth-best in both categories — five more goals conceded than Chelsea's 32, and a whopping 19 fewer goals scored than second-place Manchester City. While that seems a daunting enough task in itself, there's also a matter of the gap in points won — 17 — from last year's winners, Chelsea, to United in fourth.
[ MORE: Predicting the final league standings — Who wins? CL places? Relegation? ]
While the Blues have largely stood pat this summer — the signing of now-former Man United striker Radamel Falcao being the lone exception — have United done enough to close a gap that vast? The simple answer is, "Probably not," but then I begin to think deeper and wonder, "If not United, then who will challenge Chelsea for the title?"
The midfield is lightyears ahead of where it was last season — the trio of Scheiderlin, Schweinsteiger and Michael Carrick will form perhaps the best two- and/or three-man midfield in the league — while Memphis, a winger/center forward hybrid, seems a much better fit than his departed predecessor when ask to play on the left and combine with Wayne Rooney. Depth is now an issue, though, with Robin van Persie departing and all signs pointing toward Javier Hernandez doing the same.
Then there's the defense, which despite solidifying the right back spot with Darmian, still has a ways to go at left back (Shaw) and looks all but set on beginning the season with some combination of Chris Smalling, Phil Jones and Daley Blind at center back.
In brief summation, Man United's 2015-16 title hopes: 3/10. Other non-Chelsea sides' title hopes: 2/10.