As the 2015-16 Premier League season gets ready to spread its wings this weekend, Pro Soccer Talk is getting you ready with a week full of projections, lists, news and views.
Scoring goals — more than your opponent, at least — is the name of the game. Clean sheets are great, but you can't win if someone doesn't put one over the other team's goal line.
[ MORE: Season previews of all 20 PL teams ] 
There's very good reason that strikers — proven goalscorers especially — cost a real premium price on the transfer market. There are few players who can do the job at an elite level, so the biggest, richest clubs typically sign all of them.
So it's no coincidence that the below list, featuring the Premier League's top five strikers, all hail from the five teams who finished one through five in the league last season. A leading man with the kind of quality that these guys possess, capable of putting the ball in the back of the net time and again, is truly invaluable.
[ MORE: Predicting the final league standings | Top 5 goalkeepers | Defenders | Midfielders ]
With that said, who's our top five Premier League strikers, and in what order?
5. Harry Kane, Tottenham Hotspur — 19 league goals in 24 appearances — Let us not forget that last year was Kane's first "full" season in the first team. He is just 22 years old. He didn't start his first league game until Nov. 9 of last year. The meteoric rise and goal return were phenomenal, but showing this season that he's not a one-hit wonder would be even more impressive.
4. Olivier Giroud, Arsenal — 12 league goals in 21 appearances last season — a goals-per-game rate equal to those of Nos. 1 and 2 on this list. The problem, of course, are all the games missed. Is the 28-year-old Frenchman an enigma and often times his own worst enemy? You bet he is, but on his day, he's nearly unplayable.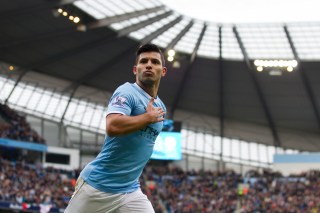 3. Wayne Rooney, Manchester United — 12 league goals in 33 appearances last season — not exactly gaudy numbers, so what is he doing in a top-five list, you ask? Bear in mind, Rooney wasn't a full-time forward in 2014-15, but looks set to play the bulk of this season as the leading man. Perhaps the most versatile player in the PL, the 29-year-old is somehow criminally underrated.
2. Diego Costa, Chelsea — 19 league goals in 24 appearances — not bad numbers for a player's first season in England. The issue, of course, are the 14 goals Costa didn't play, almost solely due to constant injuries. This was the case at Atletico Madrid and remains the only thing holding the 26-year-old Brazilian-turned-Spainard back from blowing the PL to smithereens.
1. Sergio Aguero, Manchester City — 78 league goals in 120 games played — that's the kind of production for which any team in the world would pay any price. The 27-year-old Argentine seemed to shake off the injury bug (27 games missed during his first three seasons in England) last season, when he played 33 of 38 games and bagged 26 goals.
Honorable mention: Alexis Sanchez (Arsenal), Romelu Lukaku (Everton), Christian Benteke (Liverpool), Wilfried Bony (Manchester City) and Graziano Pelle (Southampton)