I don't even know what to do with Sebastian Giovinco's season at Toronto FC.
It is quite difficult to watch the former Juventus man terrorize MLS defenses and without marvelous laughter. Multiple times during Wednesday's 4-1 thumping of Orlando City, a simple "Woooowwww" from me inspired my conversation partner, his back to TV, to say, "Giovinco again?!?"
And multiple times, he was right.
[ MORE: USMNT rises in FIFA's August poll ]
If you want to have the discussion about whether his dominance is bad for MLS, that's fine, but I'm not here for that. I'm just here to marvel at Seba's season.
Whirling dervish moves through the final third and crosses that rarely miss their mark are met by singular accomplishments like hat tricks in under 10 minutes and… this…. free… kick:
Draws the free kick and the yellow card — red-worthy in a sense — before using his foot to ask Tally Hall whether he could imagine feeling more helpless on a soccer field.
There's a post on MLSSoccer.com today about whether Giovinco, Kei Kamara or Benny Feilhaber is MVP of the league so far this season. I imagine the league would like some debate on the topic but holy smokes there isn't one right now.
Check the league leaderboard: First in goals (16), fourth in assists (10), first in shots (122), first in shots on goal (52), first in road goals (10) and second in goals-per-90 (among players who've started 10 or more games).
With Michael Bradley and Jozy Altidore alternating between injured, on international duty or even just struggling at times, Giovinco has held up the TFC attack.
Damn, Toronto has Giovinco #ChargedUp!! He wasn't voted in the "Best XI" at All-Star game but surely there's no doubts now about being MVP!!

— Alejandro Bedoya (@AleBedoya17) August 6, 2015
Those who read my writing regularly know that I enjoy the advanced statistics site Squawka. Here's how they sort out the best performances in the league this season (modified to 10 or more matches played, per 90 minutes).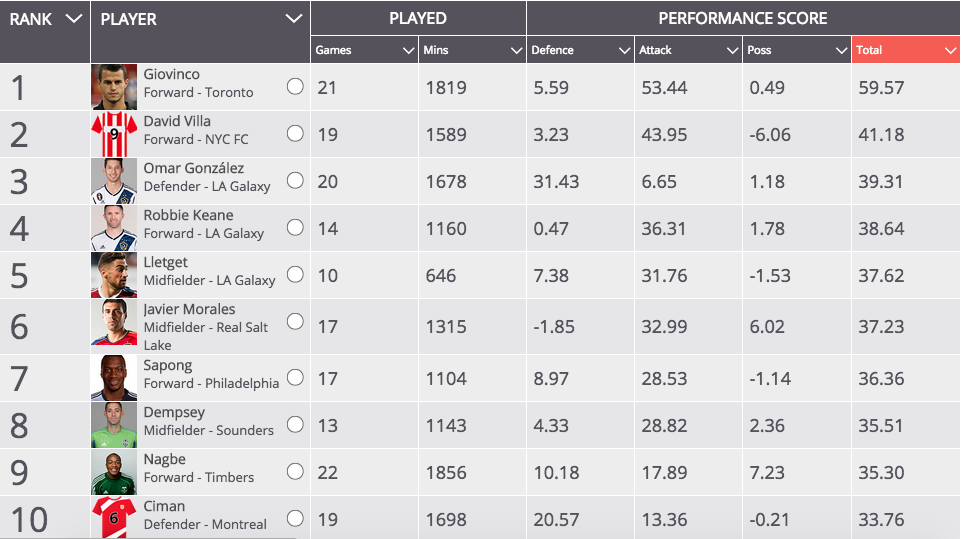 And, by the way, let's revisit that "is it because of MLS?" discussion despite my prior statements by way of a distorted but interesting enough stat. Yes, Giovinco only played 7 matches last season for Juventus before leaving for Toronto, but here's the Top 10 players in the big five European leagues last year, per-90: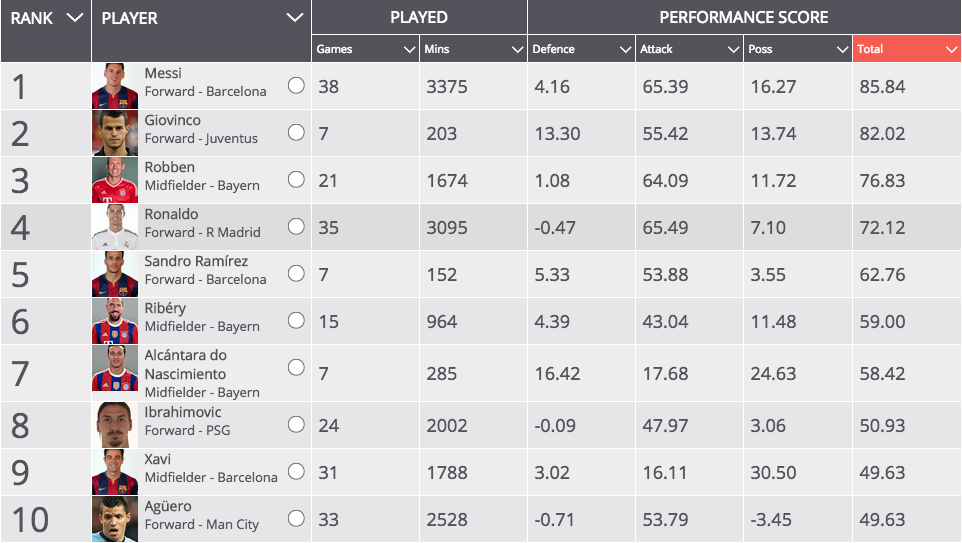 "If you love him so much, Nick, why don't you marry him?" Well, bigamy's not legal and I'm difficult to live with.
Sebastian Giovinco, wow.