It's impossible not to love Andrea Pirlo. When it was announced he would be coming to Major League Soccer, it was certainly exciting news.
Unfortunately, it appears the legendary Italian midfielder may be taking this league a little too lightly. Or he has regressed even more sharply than we had feared. Or both. And nobody is above criticism.
Pirlo deserved criticism Sunday in the New York City derby, and that's an understatement.
Let's go to the tape:
Oh. Oh my goodness.
Statistically, Pirlo wasn't that disastrous; he completed 34/40 passes (85%) created a pair of chances, and he drew four fouls. His passing was better than Andrew Jacobson or Mix Diskerud who were each in the 74-78% range with a smaller count, and far better than Lampard, who gave away possession constantly with a putrid 69% pass completion rate. But we're talking about Andrea Pirlo here, a guy who averaged 89% passing with Juventus in Serie A play last season. The volume is also way down, as Pirlo averaged 60 passes per game in Serie A play – his lowest total of the past six seasons.
The numbers also don't tell the whole story. His missed passes were BAD (see video above), and where Pirlo is truly lacking is his defensive work – and he wasn't just lacking on Sunday, he was totally inept.
There are plenty of excuses for Pirlo's inability to defend. He wasn't asked to perform defensive responsibilities for much of his Juventus career, especially towards the latter half with Arturo Vidal and Claudio Marchisio by his side. The bearded wonder played a a deep lying playmaker role, one much more focused on distribution and possession rather than defensive solidity and shape. Pirlo didn't ever lose the ball, so why would he need to defend?
We saw glimpses of this during Juventus's run through the Champions League last season. With Vidal hurt, Pirlo was tasked with extra defensive work, and it was painful to watch at times. On Sunday against the Red Bulls, he just didn't feel like defending. He had no attempted tackles, one single interception, no blocks or clearances, and he didn't even try to hide it.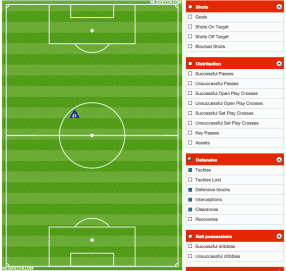 One interception, that's it, and as you can see from the tape, he failed at even funneling attacking players into more heavily patrolled areas. He was utterly useless. And with NYCFC's defensive line that has struggled throughout this season, the team needs Pirlo to chip in. Unfortunately, he's not exactly sure how to do that.
New York City has an unbelievably difficult stretch coming up. Their next six fixtures are against teams in playoff positions, including a pair against Columbus plus games at formidable West opponents Los Angeles and Dallas. Pirlo is necessary to this club moving up the table into a postseason position, but he can't continue to be a black hole in the midfield.