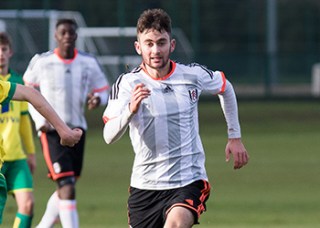 Sometime earlier this decade, the death knell of Fulhamerica rang out in the American media. Gone from the English side were players like Brian McBride, Carlos Bocanegra and Clint Dempsey, and that American Player in London vibe was left to Deuce at his new digs at White Hart Lane.
Maybe the American vibe never went away, but it's blossoming again under owner Shahid "Shad" Khan. The Pakistani businessman bought the team in 2013, and there's been a Fulhamerica revitalization under Khan (who also owns the Jacksonville Jaguars of the National Football League).
[ MORE: Premier League Playback — Round 1 ]
That's increased with Fulham's new shirt sponsor, and another pro player joining the club's ranks.
With Emerson Hyndman making an impact for the club already at age 19, MLSSoccer.com reported today that 17-year-old San Diego attacking midfielder Luca de la Torre (above) has inked a professional contract with the club (He's currently with the Fulham U-18s).
And the next time either of those players nets a goal for the Cottagers, you'll see the Southern Sun beaming off their chests (in a sense, scroll down for image). Visit Florida is the new Fulham shirt sponsor, to the tune of "high six figures".
In return, Visit Florida expects a lot of Londoners abroad. From The Sun Sentinel:
"I love Fulham and I love Florida, so naturally it brings me a lot of satisfaction to see two of my personal passions become one," Khan, a supporter of Gov. Rick Scott, said in a prepared statement. "One of my stated goals has long been the expansion and development of Fulham as an international brand, particularly in the U.S. Visit Florida has a great tourism and leisure story to tell in the competitive London and UK market, and I don't think there can be a better way of communicating all Florida has to offer than through the power and following of Fulham Football Club."
The one-year deal, which Paul Phipps, Visit Florida's chief marketing officer, said is "high six-figures," is expected to generate a $3 return in Florida for each $1 spent.
"We think this sport ties into a very passionate fan base, and Florida can become the destination of choice," Phipps said. "You have to find new and different ways to communicate your brand."
That could be worth close to $200 million to Florida in tourism, Phipps says in the article. It's little surprise that big American dollars would look into the value of Visit Malaysia's deal with Cardiff City and similar deals.
Whether de la Torre becomes a force for Fulham or the USMNT — he also holds a Spanish passport — the returning Fulhamerica vibe is sure to bring back warm memories for many American fans. Now can it help bring back Premier League football to Craven Cottage?