Soccer — you just can't get enough of it, can you?
As the 2015 calendar years wears on and winds down, so too does the 2015 Major League Soccer season. The regular season — which feels like it began just last week, by the way — is very much into its final stretch, as some teams have played as many as 25 games (though, not all teams), meaning the countdown to playoffs is either in or nearing single digits.
[ FOLLOW: All of PST's MLS coverage | USMNT ]
With that in mind, each and every game the rest of the way carries an added tinge of importance. With five MLS games slated for Saturday, Aug. 15 (fire up those MLS Live accounts), here's five reasons to watch all of them:
New York Red Bulls vs. Toronto FC (7 pm ET, MLS Live)
It would be cheating if I said, "Sebastian Giovinco — enough said," right here, wouldn't it? Probably, but this is my workspace, so I can do that. Seriously, watch this guy. He's scored 16 goals (you can watch them all, right here, in 60 seconds flat) and tallied 11 assists in his first 22 MLS games. The Red Bulls' defense has given up the third-fewest goals in MLS this season (25), so this will be a tough test for the Atomic Ant. Do yourself a favor: watch this game and find out what all the Giovinco hype is about.
73% – Sebastian Giovinco has been directly involved in a league leading 73% of @torontofc's goals so far this season (27 of 37). Designated.

— OptaJack (@OptaJack) August 12, 2015
New England Revolution vs. Houston Dynamo (7:30 pm ET, MLS Live)
OK, admittedly pinpointing one particular reason to watch this game is significantly more difficult than what we encountered above. So here's what we'll go with: major playoff position jockeying in both conferences. The Revs, currently fifth in the East on 31 points, are just five points behind the second-place Red Bulls. The Dynamo, currently seventh in the West on 31 points, are a single point behind the Portland Timbers for the other conference's sixth and final playoff place. Huge three points on the line. Huge.
[ FOLLOW: All of PST's MLS coverage | Standings | Stats | Schedule ]
Sporting Kansas City vs. Vancouver Whitecaps (9 pm ET, MLS Live)
On Friday I wrote the following in my weekly MLS preview:
Quick: name a team in MLS with a higher points per game average than Sporting KC (1.76) or the Whitecaps (1.75). That's a trick question, because there isn't one.
That's a nice place to start. If PPG were extrapolated to complete a full 34-game season, these would be the first- and second-place finishers in the whole entire league. Throw in the fact that the Whitecaps are an historically lethal counter-attacking team, alongside the MVP candidate form of Benny Feilhaber (eight goals, 12 assists in 21 games), and I'm feeling extra lucky to be at Sporting Park tonight.
FC Dallas vs. LA Galaxy (9 pm ET, MLS Live)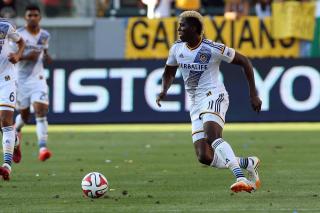 Yet again I could take the easy way out right here by saying, "all of the Galaxy's stars," but that would be 1) lazy, and 2) horrifically not pun-ny of me. Besides, we're all extremely familiar with Robbie Keane, Steven Gerrard and Giovani dos Santos. Instead, how about two teams leading MLS in terms of the "youth movement," and having massive success while doing so? Playing alongside the above headliners are American stars (in the making) Gyasi Zardes (23) and Sebastian Lletget (22) for the Galaxy, and Fabian Castillo (23), Mauro Diaz (24), Tesho Akindele (23), Matt Hedges (25), Kellyn Acosta (20), Victor Ulloa (23) and Moises Hernandez (23) — all of whom are every-game starters — for FCD. The future of MLS is bright, and that only has so much to do with the guys making 5, 6 and $7 million a year.
[ MORE: NYCFC 3-1 DCU to kick off the weekend | PHI 1-0 CHI (USOC) | SKC 3-1 RSL (USOC) ]
Real Salt Lake vs. Portland Timbers (10 pm ET, MLS Live)
Before the season began, I predicted the near-unthinkable: RSL would not qualify for the playoffs in 2015. Through 24 games, that prediction is looking pretty good (Jeff Cassar's side trail the Seattle Sounders, sixth place in the West, by three points). Considering Saturday's opponent is one the teams they're currently chasing for a playoff place, and the fact it's very nearly "their season is on the line" time, this is a massive game for a struggling (two wins in their last eight league games) and exhausted (fifth of five games, in 15 days, in three different countries — 1W-0D-3L thus far) Claret and Cobalt bunch.