Not lacking in confidence at all, $35 million man Memphis Depay has "Dream Chaser" tattooed across his chest.
[ MORE: Watch PL match replays ]
With two starts under his belt at Manchester United, its safe to say everyone has been slightly underwhelmed by Memphis' start to life in the Premier League. It's been far from a dream.
[ VIDEO: Van Gaal on United's progress ]
The 21-year-old Dutch winger has a lot of pressure on his shoulders, as he has made the big step up to the PL from the Eredivisie and has been expected to deliver goals and assists right away for the Red Devils.
In both of his opening games in the PL he has been substituted in the second half, and against Aston Villa he missed a glorious chance and looked frustrated on the left wing in United's 1-0 victory. 
Speaking about Memphis' performance at Villa Park on Friday, here's what his manager had to say:
"Memphis could have scored, but it is a big step," Van Gaal said. "You cannot imagine the difference between the Dutch competition and the Premier League – it is a big difference! He has to cope with the different rhythm of the game here but I'm very much confident that he shall cope with that."
Against Tottenham on his debut last week and then again against Villa, it almost seemed as if Memphis was trying too hard to impress at times. He always wants the ball, which is a good thing, but he has looked slightly lightweight in possession and has been knocked off the ball plenty of times.
Welcome to the PL, Memphis.
As Van Gaal mentioned, in time he will get it right. You don't score 28 goals in the Dutch top-flight and lead PSV Eindhoven to the title if you aren't a top class player. However, Memphis is still young and is barely a fully-fledged international for the Netherlands. Drawing conclusions this early on in someone's career in the PL is dangerous, just look at what everyone thought of Angel di Maria at around this time last year. The Argentine winger had a goal and an assist in his first three games and he was the best thing since sliced bread. We all know how his time at Old Trafford turned out…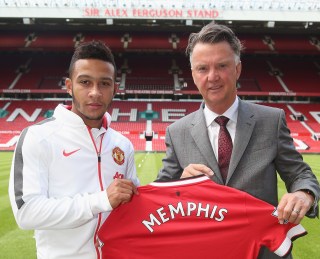 Depay is young, hungry and willing to take chances. He demanded the famous No. 7 jersey at United for his debut season and is happy with putting pressure on himself to succeed. You would think that playing him through the middle may pay off for LVG, as he has been a little isolated out on the left, especially in the first half of their game against Villa on Friday.
Sure, Memphis hasn't had a dream start to his United career but with his confidence and swagger, plus time to acclimatize to the league and playing with his new teammates, let's wait before making hasty assessments on the Dutchman.