MANCHESTER — After suffering a damaging 3-0 defeat to title rivals Manchester City on Sunday, Chelsea boss Jose Mourinho was in a defiant mood.
[ MORE: Three things we learned ]
In a week where he has been lambasted for demoting two members of his own medical staff, the Portuguese boss suffered his worst-ever defeat as Chelsea manager (matching the 3-0 defeat at West Brom last season) and his side were simply blown away by a classy City side who scored on the half hour mark through Sergio Aguero and second half goals for Vincent Kompany and Fernandinho put gloss on the victory.
Speaking after the game in the tunnel, Mourinho was adamant the result was "fake" and the reigning PL champions didn't deserve the embarrassing scoreline they were handed.
"The best team in the first half won the game. The best team in the second half was Chelsea for sure," Mourinho said. "We had a difficult first half, we didn't create a lot and our goalkeeper made a few important saves."

"Second half everything was different. If the 1-0 was a doubtful result at minute 70, 3-0 is completely fake," Mourinho added. "At 1-0 Chelsea were the best team for the whole second half. They make a change because they feel 1-0 is in danger and we concede a second goal. If 1-1 a different story, their team is in trouble."
Mourinho and his team are in a bad moment with just one point from their opening two games of the new season.
His replaced his captain John Terry at half time with Kurt Zouma and the Portuguese boss admitted his defense was "poor" in the first half. His midfield struggled to handle City's dynamic attackers, while Cesc Fabregas looked a shadow of his former self and Diego Costa and Eden Hazard failed to cause many problems for City.
"They were the best team in the first half, they controlled the game and created chances," Mourinho said of City. "Defensively we were quite fragile. In the second half everything changed."
Speaking about that defensive fragility, Mourinho revealed that Terry "was not dancing around" in the dressing room after being taken off at half time, but also accepted the decision, as Chelsea wanted to play a higher defensive line to counteract City's rapid counter attacks in the second half.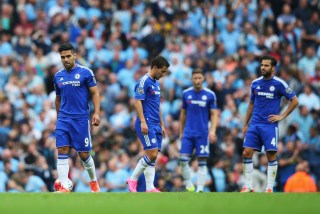 "I recovered John from a difficult situation with other managers. I made him captain," Mourinho said. "I wanted Zouma on the pitch. It was clear for me Zouma has to play and I have to bring one out. I brought my captain off. He was still on the bench. The armband is just an armband."
Looking at City, Mourinho refused to talk much about Manuel Pellegrini as his personal duel with the Chilean manager continues, but he did say that City were hanging on for the result before Vincent Kompany headed home to make it 2-0 in the 78th minute.
"I am nobody to analyze the opposite manager at work," Mourinho said. "He [Pellegrini] felt the result in danger, the first change was a control change. The second change was a defensive one. Sterling out, Demichelis in. Everybody knows in this moment that 1-0 was the result they wanted to keep and were in trouble to keep. The second goal is completely out of the context but it was our mistake. We couldn't capitalize on the second half."