EXCLUSIVE — After becoming the latest in a long line of U.S. internationals to sign for Fulham, central defender Tim Ream spoke exclusively to ProSoccerTalk about signing for the Cottagers.
Ream, 27, has signed a four-year deal with Fulham, and joins the Londoners from fellow Championship team Bolton Wanderers after joining the Trotters from Major League Soccer in 2012.
[ MORE: Latest transfer news ] 
The former New York Red Bulls standout admitted it was a tough choice to leave Bolton, a club where he has been voted Player of the Season by their fans in each of the last two campaigns, but is excited to be joining Kit Symons' team in west London.
"Mixed emotions is a good way to describe it," Ream said. "When I left Bolton's training ground on Thursday it was surreal. I spent the last three-and-a-half years there and it has been home. I've met a lot of good people and created a lot of good friendships. It was one of the toughest decisions I've ever had to make but it is an exciting time."
[ MORE: All of PST's latest USMNT news ]
It's been a crazy few days for Ream and his agent from Global Premier Management, Patrick McCabe, as they've been back and forth from Manchester to London on numerous occasions for medicals and to try and agree personal terms with two different teams. Last week it looked like he was going to sign for Queens Park Rangers, who have just been relegated from the Premier League. But at the last minute Fulham matched QPR's bid to Bolton, and Ream headed to Fulham's Motspur Park training ground to thrash out personal terms with the Cottagers after being close to signing for the R's.
"Again, it was another tough decision," explained Ream. "The biggest thing was that the guys who have come before me. The American guys. [Brian] McBride. [Carlos] Bocanegra. Clint Dempsey. Eddie Lewis. Kasey Keller. All of those guys, seeing how well they've done at this club and seeing the type of history they have created, it seemed like the right fit. Walking into the training ground, it just felt right."
Ream's agent, McCabe, had the following statement on his client's deal, as the last-minute nature of Fulham's interest made things pretty interesting right up until negotiations had concluded.
"QPR had been tracking Tim for some time and they had been diligent in making offers. Fulham had also expressed strong interest but took a little longer to formally make an offer. So we just were not sure how things would play out," McCabe explained. "For weeks, it seemed like QPR was the only suitor and Tim would have been happy to join them. When Fulham entered the picture, we evaluated everything and Fulham seemed to be a better fit for his future. There is a strong owner with Mr Khan and a defined culture at the club where many American players have enjoyed the best years of their careers. We hope that Tim can continue that trend. Chris [Ramsey] and Les [Ferdinand] were eager to have him at QPR but Tim made his preference known and a deal was struck."
After bursting onto the scene with the Red Bulls and being a finalist for the 2010 MLS Rookie of the Year, Ream moved to Bolton in January 2012 when they were in the Premier League. However, after initially acquiting himself well in the PL, Bolton and Ream were relegated to the second-tier less than five months after he arrived in England.
[ MORE: Watch full PL match replays ]  
That's exactly where the left-footed center back has been ever since, with Bolton struggling to survive in the Championship in recent years. However, after joining Fulham Ream hopes he can help them push back up to the Premier League following their relegation in 2014.
"We are bringing in quite a few players and really going for it," Ream said. "In this league you do have to spend a little bit of money to put yourself near the top and give yourself a chance to be promoted. You can say that about all 24 teams, that promotion is the aim, but we are really pushing for it. Getting back to the Premier League is the biggest goal. Obviously I wanted to do that with Bolton but it wasn't meant to be. To have an opportunity and a chance to be promoted back to the Premier League is the ultimate goal. I think this move to Fulham gives me the best opportunity to do that."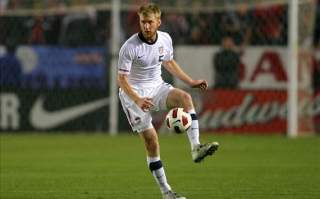 In terms of how this move aligns with Fulham's large fanbase in America due to past players such as Carlos Bocanegra, Brian McBride and Clint Dempsey all calling Craven Cottage home for long parts of their careers, Ream is proud to be joining an illustrious list of Americans who have plied their trade down by the banks of the River Thames.
"Knowing and watching Brian McBride most of all, playing at the same University as him at St. Louis, I really followed his career and watched him do so well here for so many years," Ream said. "Then with Clint [Dempsey] and Carlos [Bocanegra] carrying that torch after him, it definitely swayed me in that aspect, knowing how much history Americans have at this club and a history of doing well. That was the tipping point."
This season Ream will be lining up with fellow U.S. international and the captain of the U-20 national team this summer, Emerson Hyndman, while the home jersey he will be wearing has "Visit Florida" as the sponsor. Fulham's owner is American, Shahid Khan, and the businessman who also owns the Jacksonville Jaguars has big plans for the Cottagers if they make it back to the promised land. As for the future, the USMNT player hopes to continue to get opportunities to play for Jurgen Klinsmann's side and has earmarked the upcoming friendlies in Washington D.C. against Peru on Sept. 4 and against Brazil at Gillette Stadium on Sept. 8 as key chances to impress if called upon.
"It doesn't change much, you have to be playing week in and week out at a decent level and performing to be called in and that's what I'm going to do," Ream said. "Obviously there's a bonus of being a little better off promotion wise. It doesn't change what type of player I am. Hopefully it puts me in a good spot to keep getting in squads."
[ MORE: Full schedule for every PL club ] 
Ream also revealed that he had spoken with Klinsmann about a any potential move "a few months back" and that the preference of the U.S. national team coach was for him to stay in Europe, specifically in England.
The defender has a young family and after spending almost four years in northern England, they will now get to live in London. He's looking forward to the experience of being back in a bustling city and the center of the soccer world in England, and perhaps the world. While for fans of Fulhamerica across the United States, Ream is heading home.
"It is really exciting. I mean London is London… you don't have to describe it any other way, do you?" Ream laughed. "It is like New York, it is on that level. There is so much history down here with the city and then you throw on top of that all the history with the club. It is an exciting time to be here and hopefully I will be here for many, many years,"