The Yanks will go marching into their two September friendlies with two long-time stars in the fold and one eye on October's Confederations Cup playoff against Mexico.
Tim Howard is back in the fold for the States, albeit as Brad Guzan's back-up for now, while DaMarcus Beasley's return from international retirement may not be the one-off "sendoff" match many suspected.
[ SPORTSWORLD: On Courtois | Clark talks NCAA soccer ]
Klinsmann talked about both players and the big Rose Bowl match-up with Mexico with USSoccer.com:
On Howard as his No. 2: "He knew it was not going to be easy to come back because obviously Brad Guzan established himself as the number one and played a very good tournament and the whole year he really did a good job. Tim has accepted for the time being to be the number two, and then down the road there will be a fight for the number one spot like in every position. He accepted that, and we are really happy to have him back on board because of who he is and what he has done for us."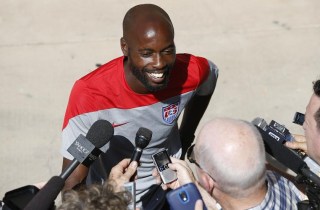 On Beasley: "He made himself available for the Gold Cup and it didn't work out the way we all wanted it with his injury after the first training session. So we had that conversation and I asked him to reconsider the National Team and he was all fired up. He was all proud and happy and he said 'I'm there for the U.S. National Team'."
On the playing a Brazil with Neymar and Kaka: "We want to do well. We want to excite the fans and play two very good games, and at the same time we want to see the players perform. We want to see the players make statements towards the Mexico game, because that is really the biggest game of the year now after what happened at the Gold Cup. So it will be very interesting."
How long do you think Guzan's status as U.S. No. 1 is secure? Will one "off" game put Howard between the sticks? Do you expect Howard back for the Mexico match?