In the 2013-14 season, Atletico Madrid won the La Liga title. That was not supposed to happen.
In 10 of the past 11 seasons in Spain's top flight, the league has been won by either Barcelona (7 titles) or Real Madrid (3 titles).
[ RELATED: Serie A season preview ]
Barcelona is coming off of one of the greatest seasons in European football history, claiming the treble by winning the La Liga, Copa del Rey and Champions League titles. However, Barca has struggled in the preseason, and is currently under a transfer ban until January due to breaching UEFA's Financial Fair Play rules.
Real Madrid has a new manager in Rafa Benitez, and his first order of business will be bringing the Spanish title back to the Bernabeu. Cristiano Ronaldo is coming off arguably the best year of his career, leading La Liga with 48 goals, which was more than 14 clubs scored total. If Real hopes to reclaim the title from Barcelona, it will be on Ronaldo's shoulders once again.
Top half of the table from 2014-15: Green = Champions League, Blue = Europa League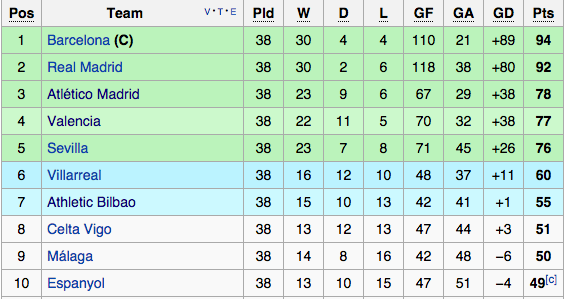 Teams relegated from 2014-15: Elche, Almeria, Cordoba
Teams promoted for 2015-16: Real Betis, Sporting Gijon, Las Palmas
Teams to watch (other than Barca and Real)
Atletico Madrid: Diego Simeone's men will look to shock the league like they did in 2014, when they won La Liga and made it to the Champions League final. However, one of the side's top scorers Mario Mandzukic has left for Juventus, meaning even more pressure is on Antoine Griezmann to find the back of the net.
Valencia: Dani Parejo's nine goals in La Liga led Valencia last season, so the arrival of Alvaro Negredo from Manchester City will add some much needed offense to the side. Nuno is heading into his second season as manager, and finishing just a point shy of the top-three will surely push Valencia to improve this year.
Sevilla: Sevilla has won back-to-back Europa League titles, and will now try and match that success in Spain. Manager Unai Emery has seen his stock rise over the past few seasons, but now he must cope with the departure of leading scorer Carlos Bacca.
Athletic Bilbao: Bilbao claimed the Spanish Super Cup this summer, stunning Barcelona with a 4-0 win in the first leg before getting a 1-1 draw in the second leg. After starting slow last season, Bilbao ended the year with just two losses from the final 16 matches, and will look to carry over that form into 2015-16.