Over the past four Serie A seasons, Juventus has only lost 10 matches.
In 2015-16, Juve will look for a fifth straight Serie A title after back-to-back campaigns in which they finished 17 points above the nearest competitor.
[ MORE: Latest transfer news ] 
However, Juventus has lost some key players since losing in the Champions League final in May, including top scorer Carlos Tevez, club legend Andrea Pirlo, and workhorse midfielder Arturo Vidal.
So, is this the year the team from Turin is finally dethroned? Or will it be another title for The Old Lady?
Top half of the table from 2014-15: Green = Champions League, Blue = Europa League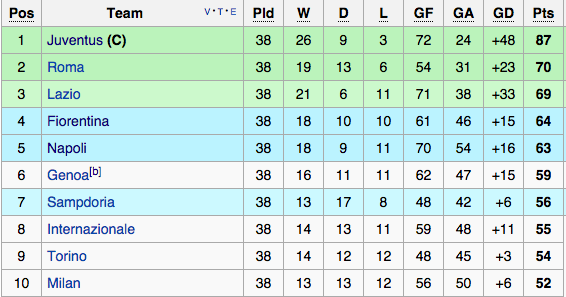 Teams relegated from 2014-15: Cagliari, Cesena, Parma
Teams promoted for 2015-16: Bologna, Carpi, Frosinone
Teams to watch (other than Juventus)
Roma: After finishing second last season, Roma has signed Manchester City striker Edin Dzeko and Chelsea winger Mohamed Salah for some added offense.
Lazio: Even at 37-years-old, Miroslav Klose can still score goals with the best of them. He'll have to continue his goalscoring ways as Lazio must balance the Serie A with Champions League play this season.
Napoli: With Rafa Benitez gone for Real Madrid, Maurizio Sarri is now in charge at Napoli. The side has kept star striker Gonzalo Higuain (for now), and will look to improve on an impressive fifth place finish last season.
Fiorentina: Despite finishing fourth in the league last season, Vincenzo Montella was sacked and Paulo Sousa was brought in to lead La Viola. Top scorer Mario Gomez was sent to Besiktas on loan, so Sousa must find another source of goals to push his side towards the Champions League.
Inter Milan: Former Manchester City boss Roberto Mancini heads into his first full year in charge after taking over Inter in November of last season. Mauro Icardi was Serie A's leading goalscorer in 2014-15, and a return to European football is the club's goal this season.
AC Milan: After finishing tenth on the table last season, the club's worst finish in 17 years, Sinisa Mihaljovic was brought in to turn around the Rossoneri. One of the most successful clubs in football history with seven European Cup/Champions League and 18 Serie A titles, there is no more room for error at the San Siro.