We're two days away from the draw for the group stage of the 2015-16 UEFA Champions League, and three weeks from its first match.
Yet there's still 10 spots up for grabs in that stage, as Manchester United, Valencia and Celtic headline a batch of 20 teams participating in the qualifying playoffs.
[ MORE: The crazy price for Neymar ]
The second legs are this week, and only two ties are divided by more than a goal. Let's look at what's cooking for the next two days.
Tuesday
Dinamo Zagreb vs. Skenderbeu Korce (DZ leads 2-1) — The Albanian side takes to the road knowing it needs more than a win after giving up a pair of road goals to Zagreb in leg one.
Malmo vs. Celtic (Celtic leads 3-2) — Celtic's Leigh Griffiths has been fantastic in the qualifying rounds, and will likely need to make his mark in Sweden after Malmo scored a pair in Scotland. Celtic will look to beat back ghosts of last year's loss to Maribor, while Malmo overcame a first leg deficit last year against Red Bull Salzburg.
Maccabi Tel Aviv vs. Basel (Tied 2-2) — The Swiss side is in danger after giving up two road goals to Eran Zahavi last week.
Shakhtar Donetsk vs. Rapid Wien (Shakhtar leads 1-0) — The home side was among the darlings of last year's tournament, and could be back in the group stage after stealing a first leg win in Austria.
AS Monaco vs. Valencia (Valencia leads 3-1) — Last year, Monaco shocked Arsenal. This year, a brutal draw means they need a minimum of a 2-0 win to advance, which is a tall ask against Valencia (though the Spanish side did just tell defensive force Nicolas Otamendi to Manchester City).
Wednesday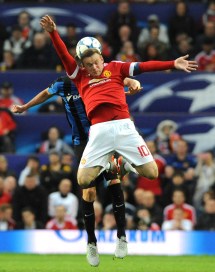 Club Brugge vs. Manchester United (United leads 3-1) — Looks like a comfortable road leg for the Red Devils, as their late goal from Memphis Depay to Marouane Fellaini puts them in the driver's seat to advance to the group stage.
Bayer Leverkusen vs. Lazio (Lazio leads 1-0) — This one had loads of promise. Miroslav Klose will miss Lazio's return to his home country, as the Serie A side attempts to keep powerful Bayer from the group stage. Bayer was rampant in the second leg last season, beating Copenhagen 4-0.
APOEL vs. Astana (Astana leads 1-0) — Bauyrzhan Dzholchiev has the Kazakh side ahead after the home leg, but its Cypriot hosts have the experience of getting to the group stage on its side. Home field was key for APOEL in a 4-0 second leg against AaB last season.
CSKA Moscow vs. Sporting CP (Sporting leads 2-1) — It should be a wide-open affair in Russia, and both clubs have the firepower to stage a beauty in Moscow.
Partizan Belgrade vs. BATE Borisov (BATE leads 1-0) — Seemingly ageless Sasa Ilic would love to add to his legacy by helping the Serbian powers to a win, but BATE has the lead, a home shutout, and experience. BATE won a second leg vs. Slovan Bratislava 3-0 last season.