The strife is over for Wayne Rooney, who clinched Manchester United's berth in the UEFA Champions League group stage with a hat trick in Wednesday's 4-0 win over Club Brugge in Belgium.
[ MORE: Premier League transfer needs ]
Rooney's second shot of the match went in, and it gave the captain his first goal in 10 contests for United. It was a confident finish, set up with a deft touch from Memphis that sprung Rooney 1v1 with Brugge keeper Sinan Bolat.
The aggregate final was 7-1. Ander Herrera also scored for United.
Memphis had a wide-open run in the 35th minute but telegraphed his desire to pass to Rooney, allowing defender Marcus Duarte to close down the Dutch attacker and partially-block his shot out for a corner.
Brugge had a pair of late chances that moved Sergio Romero, one on a backwards header from Daley Blind, but couldn't find the goal that would make an interesting second half. Romero robbed Abou Diaby on an absolute must-have 1v1 chance for the former Arsenal man.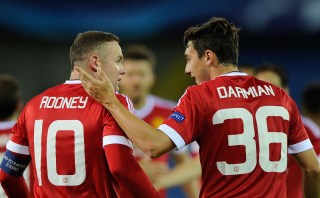 Rooney would make it 2-0 with an easy-enough finish after Herrera slid him through just after halftime. That made it 5-1 on aggregate, putting Club Brugge's hopes of the group stage to rest, but Rooney wasn't done.
Juan Mata helped Rooney score a similar goal to the opener before the game was 60 minutes old, proving that Manchester United has wingers for days.
Herrera added a goal in the 63rd minute, walking in for yet another 1v1 with Bolat. It was his fifth shot of the match, and set up by Bastian Schweinsteiger.
It should've been 5-0, but Chicharito slipped while taking a late penalty kick. To add insult to injury, the Mexican striker sent a sitter over the net in the 90th.