He's a big strong junior forward with international pedigree, and he's a tremendous threat to the PAC-12.
Presumably, you'd think you're reading about Jordan Morris, the much-publicized Stanford man with a USMNT goal under his belt and as many accolades as you can dig up for a kid in college.
[ MORE: College soccer news ]
But Morris isn't the subject of that opening statement. Allow us to introduce you to a 6-foot-2 junior forward from the University of Washington named Mason Robertson. The son of a Scottish defending hero and the author of 13 goals through two years in Seattle, Robertson has all the tools you want from a striker.
The presence of Robertson and Morris in the same conference — let alone Oregon State's Timmy Mueller, who outscored both last season — shows the depth of a brutal six-team conference.
In fact, talk to any coach in the PAC-12 and they'll be able to rattle off a bevy of respected in-conference stars. Washington coach Jamie Clark literally reeled off compliments for multiple players from each team across the conference, which includes UCLA, Cal, Stanford, Oregon State and San Diego State.
"The difference in our conference is that there's really no bottom," Clark said when asked what makes the PAC-12 so brutal. "San Diego State still goes into conference play 7-2, and then they have to play our conference. Every kid who's playing here doesn't get a single break come October 1."
[ WATCH: Evansville's McGrath nets preseason stunner ]
There are over 200 teams in Division I men's soccer, and PAC-12 has three teams in the Top 10 of the NSCAA preseason poll with UCLA (1), Stanford (8) and Washington (10). Cal also places in the Top 25 at No. 16, while Oregon State receives votes. SDSU beat two ranked teams outside of conference play last season.
Stanford and UCLA will be pegged to finish high this year, but Washington has an opportunity to chase the title thanks in no small part to Robertson and a wide array of talent.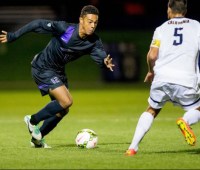 "Arguably we have the best center forward in the country in Mason," Clark said. "He's out with injury right now but when he's healthy he's a freak. His dad, David Robertson, played for Leeds and Rangers and was a pretty special pro.
"And Henry Wingo, the Sounders product, he's a name people will become very familiar with. Special talent who just glides with the ball. He's like a Jordan Allen maybe. Not quite as direct, but smoother."
[ MORE: SportsWorld on Notre Dame's Bobby Clark ]
Helping in the attack are U-23 camp invitee James Moberg and crafty winger Josh Heard, while strong senior center back Michael Gallagher will be joined by U.S. U-18 back Quentin Pearson.
All that said, the Huskies will have to track down UCLA and Stanford while holding off Cal, Oregon State and San Diego State. The Bruins have brought in an unreal amount of talent to help replace Leo Stolz, while the Cardinal will boast Brandon Vincent in addition to Morris.
Clark says Cal plays "the most attractive soccer in the conference", and powerful midfielder Christian Theirjung headlines a unit with Jose Carrera Garcia and Paul Salcedo. The Golden Bears are also playing for fallen teammate Eloi Vasquez, who died tragically this winter.
While we had Clark on the line, we put the veteran coach on the spot for the under-the-radar players from the West Coast, and a list of the top talent he's faced in college. The former San Jose Earthquakes defender — and son of Notre Dame boss Bobby Clark — was an assistant at New Mexico and Notre Dame before head coaching stints at Harvard and Creighton.
Jamie Clark's best PAC-12 players of recent years
Ryan Hollingshead
Kelyn Rowe
Steve Birnbaum
Khiry Shelton
Andy Rose
Adam Jahn
Jamie Clark's best non-PAC-12 West coast players now
Eddie Sanchez – Portland
Ismaila Jome – UC Santa Barbara
Chris Weehan – New Mexico
Jamie Clark's best overall players in recent years
Ethan Finlay- Powerful and never quits. A terror to have to defend.
Darlington Nagbe – Couldn't get the ball from him. MLS teams have the same issue today.
Gyasi Zardes – Unreal scary running at you.
Darren Mattocks- Scared defenses as just so athletic.
Leo Stolz- Did everything for UCLA
Harry Shipp- Absolute class in finding pockets and playing through pressure.
Will Bruin- Terrorized our Creighton team a few years back.
Andre Blake – He is a special keeper.
Miguel Gonzales – Peninsula JC then Seattle U. Scored goals everywhere he's been. Crafty and smart. Never given a chance by many, being from a smaller school and not a big strapping athlete. Now tearing up the USL.