Your move, Borussia Dortmund.
Bayern Munich continued its strong start to the Bundesliga campaign, and will be the only team to boast a 3-0 record unless BVB beats Hertha Berlin on Sunday.
[ MORE: Premier League Roundup ]
For the other stories of the day, let's whip around the scoreboard.
Wolfsburg 3-0 Schalke (Friday)
Wolfsburg has been in the news for mostly transfer-related reasons thanks to the ongoing Kevin De Bruyne saga — he's said to be set for Manchester City — but they're still playing an incredibly attractive brand of soccer.
Much to Schalke's chagrin, Wolfsburg looks set to hold onto strong striker Bas Dost, who netted in the 17th minute. Ricardo Rodriguez finished a PK in the second half before Timm Klose finished the scoring two minutes later in the 61st.
Augsburg 0-1 Ingolstadt
Yes, USMNT midfielder Alfredo Morales went 90 minutes in the upset, but we're just going to leave this goal from Aussie forward Mathew Leckie here for you.
Bayern Munich 3-0 Bayer Leverkusen
Bayer looked like a side that played midweek in the UEFA Champions League, conceding a pair of penalties. Arjen Robben and Thomas Muller converted both, while Muller added another goal in the win.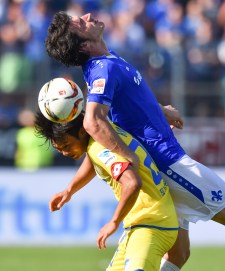 Elsewhere
Mainz 3-0 Hannover — Yoshinori Muto scores a pair for hosts

Stuttgart 1-4 Eintracht Frankfurt — USMNT's Chandler subbed at half; Just six shots for visitors.

Darmstadt 0-0 Hoffenheim — Four total shots on target in 90 minutes. Four.
Koln 2-1 Hamburger — Hosts strike twice in six second-half minutes to win.
Borussia Dortmund vs. Hertha Berlin — 9:30 a.m. ET
Werder Bremen vs. Borussia Monchengladbach — 11:30 a.m. ET
***
STANDINGS