Week 26 of the 2015 Major League Soccer season came and went over the weekend, and it's safe to say that as the calendar turns from August to September, the cream is really starting to rise to the top.
[ FOLLOW: All of PST's Week 26 MLS coverage | Standings | Stats | Schedule ]
On the weekend, just three of the eight teams currently not occupying a playoff place defeated a side currently occupying a playoff place — and of those three, two of them (San Jose Earthquakes and Houston Dynamo) are either tied for or within three points of the Western Conference's final playoff place.
[ WEEK 26: SEA 2-1 POR | RBNY 3-0 DCU | TFC 2-1 MTL | NYC 1-2 CLB | FCD 2-0 RSL | COL 2-1 SKC ]
As such, the Week 26 MLS Team of the Week awards just one spot to a player — Colorado Rapids' Vicente Sanchez — from a team not within touching distance of a playoff place. Everywhere else you look, there's standout performances from the New York Red Bulls (Bradley Wright-Phillips, Sacha Kljestan and Mike Grella), the Dynamo (Raul Rodriguez and David Horst), Columbus Crew SC (Federico Higuain and Michael Parkhurst) and Toronto FC (Michael Bradley) all over the place. There's also D.C. United's Bill Hamid, because without him, United quite literally would have lost to the Red Bulls by a score of 8-0.
Thoughts? Questions? Agreements? Disagreements? (Of course not.) Leave them in the comments section, as always. I'm not afraid to defend my picks.
[ MORE: 2015 MLS Team of the Week archive ]
MLS Team of the Week — Week 26
Goalkeeper: Bill Hamid (D.C. United)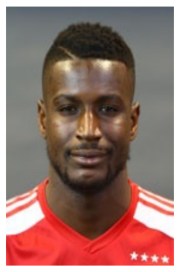 Defenders: Michael Parkhurst (Columbus Crew SC), Andrew Farrell (New England Revolution), Raul Rodriguez (Houston Dynamo), David Horst (Houston Dynamo)

Midfielders: Vicente Sanchez (Colorado Rapids), Michael Bradley (Toronto FC), Sacha Kljestan (New York Red Bulls), Mike Grella (New York Red Bulls)

Forwards: Bradley Wright-Phillips (New York Red Bulls), Federico Higuain (Columbus Crew SC)