Tomorrow, Tuesday, Sept. 1, 2015, is transfer deadline day for the entirety of the English football pyramid, which includes the Premier League's 20 clubs.
[ MORE: All of the latest transfer news ]
For the first time in six transfer deadline days, we will be forced to observe this pseudo national holiday without Henry James Redknapp — better known simply as "Harry" — being in charge of a football club. This is a sad day for anyone who has ever supported a Redknapp-managed club, because there were two days in a calendar year whereon you could let your deepest Redknapp loathings boil over free yourself of such vitriol and spite, and those were the final day of each year's two transfer windows.
I'll miss Harry tomorrow — I'm sure we all will — and here's why:
5. Everybody else knew when they'd had enough (players), but not Harry
Harry's favorite line on or around transfer deadline day was, and always will be, "I need more players." It mattered not whether his transfer dealings had already run his current employers millions of dollars into the red, Harry needed that one last signing, because, and he just knew it, that was going to be the big one. If only his chairman would back him in the transfer market this one last time.
[ DONE DEALS: Recapping Man United (and others') very busy Monday ]
4. Who's going to sign Niko Kranjcar?
Yet another sacred transfer deadline day tradition to go unobserved if Harry doesn't get a job in the next 18 hours. Harry signed Kranjcar as the manager of three different clubs — Portsmouth, Tottenham Hotspur and QPR. Don't worry, Niko, your career may be quickly winding down at Dynamo Kyiv, but Harry will come for you one day.
My #deadlineday tip – Harry Redknapp to sign Kranjcar. Yes, know he hasn't got a club, but he'll still sign him. Can jog about in his garden

— Michael (@MichaelHi92) August 31, 2015
[ MORE: Monday's transfer rumor roundup | Sunday's officially confirmed transfers ]
3. Who's going to (try to) sign Jermain Defoe? And what about Peter Crouch?
Redknapp also signed Defoe while in charge of three different clubs — West Ham United, Portsmouth and Tottenham — before making every effort known to man to achieve his rare quadruple last January while at QPR. Don't worry, though, Harry did achieve that elusive feat by signing Peter Crouch four different times — Portsmouth (twice), Southampton and Tottenham. Sadly, it looks as though Defoe will stay put at Sunderland in drama-free fashion on Tuesday, and that's just not something Harry would have stood for.
[ JPW'S PL Playback: It's time to change the rules of the transfer window ]
2. Who's going to do the annual manager-hanging-out-the-car-window television interview?
Rephrased another way, that could have read, "What manager could possibly love the limelight of a TV camera on his deadline-day drive to and from the office the way that Harry did?" Answer: none. Harry may not have invented the car-window TV interview — he very well might have, actually — but he certainly perfected it. The reporter wasn't interviewing Harry; Harry was holding court, and that window, an opulent portal unto the rest of the universe, was his courtroom.
Sidenote: Remember that time Brek Shea did a TV interview through his car window? If only he had made it at Stoke City, that would have been looked back upon as the day American soccer officially "arrived."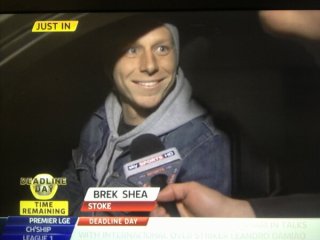 [ MORE: 10 deals to keep an eye on as deadline day comes and goes ]
1. Because nobody — and I mean NOBODY — could wheel 'em and deal 'em the way that Harry could
Harry was born for this biannual celebration, the same way Lionel Messi was created to become the best soccer player in the world. Tactics and strategy and actual games be damned, league titles Champions League qualification Europa League qualification mid-table finishes relegation battles are won and lost not on the field, not during the transfer window as a whole, but during those final hours when a real "wheeler-dealer" did the business.
Some player, somewhere in the world, unhappy with his current club situation and available as a real steal, will go unsold tomorrow, and it could have all been avoided if someone had just hired Harry. In Harry's day, transfer deadline day was so much smaller than the game of football or an individual club. He was transfer deadline day.