Mac Steeves and his Providence Friars had just made history, but the 6-foot-4 scoring forward was too busy looking ahead to appreciate his and their accomplishments.
After scoring a pair of goals in a 3-2 semifinal loss to UCLA in the College Cup semifinal, Steeves became the first player in 31 seasons to be named the tournament's most outstanding player despite not playing in the final.
"It wasn't even on my mind," Steeves said. "I was pretty upset that we lost in the semifinals. I was thinking about that and getting back into fitness in the few weeks we'd have off."
[ MORE: College soccer news ]
This after the No. 11 seed Friars knocked off No. 3 Michigan State to head to the tournament. Since then, Steeves and his Friars teammates have been on the minds of opponents, having made their first College Cup while under the tutelage of English coach Craig Stewart.
On opening weekend of the 2015 season, Providence picked up where it left off. Against good competition in Monmouth and Bryant, Steeves scored braces in each match to help boost the Friars to a 2-0 start.
The goals are typical Steeves. On the first, the big American striker uses his deft touch to plunk a shot from the 18 into the corner of the goal. On the other side of halftime, Steeves bulled his way between a pair of Monmouth defenders to head a rebound home.
"He's a modern day No. 9, where he's obviously a physical presence with a lot of other qualities," said Stewart, whose Friars are ranked No. 8 in the nation. "In terms of professionals, he's like Edin Dzeko. The one player I like to compare him to, and probably cause it's my hometown Newcastle, is Alan Shearer as a big target forward."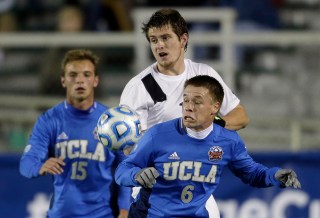 A Spurs supporter with 16 goals in his college career, Steeves prefers Zlatan Ibrahimovic of PSG and Diego Costa of Chelsea, but that's neither here nor there. What we have here is a big, tall American forward with good lineage — his father played semi-pro in Japan while serving in the Marines — good feet and the right mindset.
[ THREE THINGS: US U-23s vs. England U-21 ]
Providence hits the road this weekend, where they'll face Holy Cross and Rhode Island. It'll still be nearly a month until Big East play for the Friars, but another Cinderella run to the College Cup would be far from a surprise.
Just don't label it with the Italian folktale around Stewart.
"In many ways it was a historic season but we never felt at any point that we didn't belong or deserve to be there," Stewart said. "A Cinderella story is where someone makes it when they didn't have a shot, where we really felt we belonged and deserved to go onto the final."
Steeves is just a junior, but the next step can't be too far away. And the former NSCAA All-American and NSCAA State Player of the Year in Massachusetts has been caught a bit off guard by the attention, but not his production.
"I put a lot of work into my game and trying to become better," Steeves said. "The amount of success I'm having is a little surprising just because I didn't know exactly what I was capable of."