Bob Bradley continues to work miracles as the first American to manage a club in the top-flight of European soccer.
His latest Houdiniesque act has seen Bradley, 57, take tiny Stabaek into a title challenge and the Norwegian Cup semifinals with two months of the 2015 Tippeligaen season to go. The former U.S. national team head coach exceeded everyone's expectations in his debut season in Norway last year, leading his newly promoted side to a midtable finish and a semifinal spot in the cup. In Year Two, despite a huge turnover of players at the club with little resources, he's bettered it, considerably.
[ LONGFORM: NBC Sportsworld on Bradley – "That's Football" ]
With eight games to go in the Tippeligaen, Stabaek sit in second place and eight points behind Norwegian powerhouse Rosenborg. Stabaek face "The Troll Boys" twice in the next 10 days away from home in both the league and the cup, with the first match coming up in the league in Trondheim on Sunday. Stabaek is no flash in the pan. They've been in second since Week 6 of the current season, while Rosenborg have been top for all but one week. These two teams are on opposite sides of the spectrum in terms of finances, infrastructure and historical success, but tiny Stabaek, led by the only non-Nordic head coach in Norway's top-flight, are capable of punching well above their weight.
In an extended interview with ProSoccerTalk, the former head coach of the U.S. from 2007 to 2011 revealed how he has built this Stabaek side for second-season success, their mindset going into a crucial 10-day period and Bradley also speaks about his future in Norway as his contract is up at the end of the current campaign.
After traveling to Norway last summer to write this longform piece for NBC Sportsworld, it's been fun to watch Stabaek's progress under the guidance of the former Princeton, Chicago Fire, USA and Egyptian national team coach.
I, JPW, am asking the questions below, Bradley is answering them.
Enjoy.
JPW: Bob, as always, pleasure to speak with you. Can you sum up what this second season has been like so far in Norway? How has the team progressed?
Bob Bradley: We couldn't bring anybody in, we had to sell. So we went through most of preseason with some of the returning guys from last year but working to build on that result we had last year, trying to have a picture of what the team would look like but also thinking and trying really hard to make sure people knew we were going to push and improve on that season. We had to bring in some players, especially with some of the attacking players we had lost. Eventually we sold Franck Boli to a club in China and for Stabaek we made good money back and right at the end of the last transfer window we were able to bring in some interesting attacking players, including Adama Diomande who is Norwegian and had parents from the Ivory Coast. He had been at other Norwegian clubs like Stromsgodset and somehow had gone from Dinamo Minsk then he needed a version of rebuilding his career a little bit. He knew how good, in a similar situation, it had been for Kofi Adu's career, and we were able to get Dio here.
I watched him a lot on tape and my first impression was that in the group here he was a good teammate, he made very hard runs, worked very hard for the team, good teammate. As a striker he had a physical dimension, something we didn't have last year. We didn't know in pure goalscoring how it would work. We told Dio in the beginning that he had a lot of good qualities and we didn't want to lose any of what he had going for him. But we wanted to try and add to the package and push him. His response was great. In 21 league matches he scored 17 goals. He has been fantastic when you combine him with the other two players we brought in. Ernest Asante who is a fast winger from Ghana who was at Start. We ended up getting Yassine El Ghanassy who is a project as well. Most recently in the summer Muhamed Keita, who is a similar story to Dio. But we gave our team a different look. More athletic, more dangerous. We scored some great goals. Of course when you add it all up, people were again talking about our football, able to press a little bit higher. All this kind of stuff. The only thing that then happened is we lost Diomande to Hull.
How big of a blow was it to lose your top scorer, Diomande, right at the end of the transfer window to Hull City?
We have eight matches left, we are in second place and are in the semifinals of the cup. On one hand I certainly always understood that when I came to Stabaek the club, financially, had hit rock bottom and the work we had to do had to help the club rebuild financially. You can always get a mix between getting good football, results and good players, and then when all that happens it also means the possibility of getting players to the point where they are attractive to other clubs and bringing money back in. It all goes hand in hand. But to lose an important player like that is also hard for the team. It means that our challenge going forward is greater. He missed the game with Odd that we lost 2-1 last week, he had an injury at the end of the Sandefjord game so we already started working last week how we play without him. Lot of the same football ideas and how it's not one guys responsibility but more a collective. Trying to be a little more mobile. We lost the physical presence but we still have some interesting attacking players.
Run me through how the second season has gone, how have you managed to continue the upward curve and challenge for a title just a year after returning to the top-flight?
The challenge for us now is on September 13 in Trondheim against Rosenborg. They are eight points ahead. To make this interesting we have to win. Then 10 days later we go back to Trondheim for the semifinal of the cup. There has been a lot of work this week both on the field and with video, and also just some meetings with the team to make sure everyone understands we are excited for Dio and proud of what he was able to do with us. But people are writing us off, they've done it before. It is our job to try and make things better and compete at a better level and make sure everyone understands if we go on the field and play our football, push games, then every single time we step on the field we can always win. Another challenge, it is not easy sometimes when a part of the message you are spreading with the players from the beginning… I said to this group after the end of preseason when we had finally brought in Dio and Asante and El Ghanassy, I said to our team 'I think we have the chance to do something special this year. There is real talent. The personality of the team is different.' We are more athletic than last year and to build something that was going in a strong way, part of that message every day was 'how far can we go?' Then when you get to a moment like this, then obviously the long-term good of the club, that doesn't necessary go hand-in-hand with the message we've been trying to build on every day this season. That's a challenge. You have to look at these players and make sure they understand that people have written us off before and I don't buy it. They don't see the way the work every day and the way we work with each other and the way we push the football. This is the next goal, this is the challenge.
I remember being in Trondheim and watching your side win at Rosenborg last year. How difficult will those two games (league game on Sept. 13 and cup semi on Sept. 23) be and this is the pivotal moment in your two-seasons in Norway, right?
When you win and you move forward as a team it gets exciting because you get bigger games. For us, within 10 days to play Rosenborg twice, and they're having a fantastic season, they have been very strong and very good going forward. We lost a very disappointing 3-2 game against them at home earlier in the year when we went up 2-0. Somewhere around 35 minutes they got a corner, the referee ends up giving a PK on a soft handball. They score right before half, so it's 2-2. Second half we turn the ball over and they score on the counter so its 3-2, then they have a man sent off and we push but lose 3-2. That was a very good game. We were very disappointed with ourselves. What happened that day, for 20 or 25 minutes we pushed the game pretty hard but when we went up 2-0, in some ways we backed off a little bit and that gave them a push and they're a good team, so when they're behind they are also going to respond. That led to them being in our end a little bit more… we remember that game. It was a game that we felt we didn't finish off. We first get the chance to go there in the league and as I mentioned, when you're eight points back with eight games to play, to give yourselves a chance you have to win. A tie does no good in the battle with Rosenborg. Obviously a point in terms of still getting a medal at the end of the year could come in handy but our mentality from the first game is to really go up there and try to throw everything we have at them and come away with three points. Then based on how that game goes we can look closely at everything and figure out 10 days later what is our best way for the cup.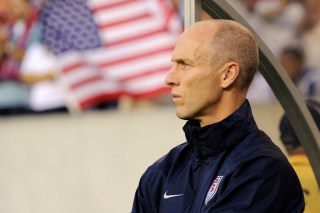 With eight games to go you are in the Europa League spot. How big would that be for the club, to qualify for Europe?
For us now, we need to finish this season in a strong way. The starting points would be to win the league and to win the cup but the way things work in Europe is that the possibility of still getting a medal and still qualifying for the Europa League qualification, there is still a lot to play for at the end of the year. Even if you're not in range for the Championship. But that is one step at a time. First and foremost, for us it's been a week of dealing with things with Dio. Late on Monday someone in the club said 'looks like you'll keep everybody' and I said 'we'll see' because obviously the window in England shut a day later. We never heard anything from Hull until Tuesday morning, this thing came at the last second and I've said many times, there are different factors that need to be considered. Smaller clubs that rely on selling players, that means that at the end of windows there is usually a price. We have had some conversations with others clubs and they were not in the ballpark of what we had said. Then when Hull came in, it was the case. As I said before, in the two years here, first year everyone predicted we would go down, a team that came up from the second league and we finished in midtable and made the semifinals of the cup.
From the first half of the season last year to the second half of the season the team changed tremendously because we sold Morten Thorsby to Heerenveen last year and we lost Adu after a six month loan and went back to Brugge and then on to Malmo where he is playing in the UEFA Champions League. The second half of the year we had to come up with some new ideas. Andrew Jacobson was here on loan, Magne Hoseth came for the second half of the season. We had an interesting a different look in the second half of the season. At the end of the year, for a number of reasons, if you look at the team who started the games in the second half of the season, when we started this year seven or eight of those guys were not here. Fredrik Brustad and Franck Boli weren't here and those two guys were our top goalscorers from last season. When we were in Portland in preseason and people saw us play and said 'boy, you guys play good football' but we were a young team and didn't really have strikers at that time. But then we added some players and we've seen great development from a few others from last summer, a young Norwegian left back Birger Melling. He had come through Viking and Middlesbrough as a young player. He plays left back and when we go behind sometimes we push him forward to left wing and he has just been called into Norway's U-21 squad. 
The fact is that you take Morten Thorsby and Franck Boli, then we sold the young midfielder Anders Trondsen to Sarpsborg and now Dio, we have sold four players in the last year and I think if you add all that up it is over $5 million. For Stabaek that is a big deal. That doesn't always help in the fight for trophies so again you have to focus everybody on the job in hand. Everybody believes we can still do this.
How difficult is it to be creative with new signings and for a club like Stabaek to cast the net far and wide? 
Stabaek is a small club. Franck Boli, Luk Kassi and Mande Sayouba all are young players from the Ivory Coast that were here before I arrived and were part of a relationship with an academy in the Ivory Coast. Some of the other players are just in different situations. We have to be creative. Jan Peder Jalland and I certainly look at a lot of video. Inge Andre Olsen bring us names and does a magnificent job working with agents. We have to look in a lot of directions and be creative about how to bring players here because compared to most clubs our resources are not too great.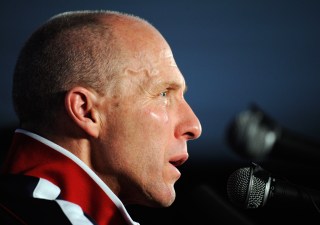 With Diomande leaving for Hull, is that the harsh reality the club faces? In the past Sporting director Inge Olsen told me that he hopes the players and coaches like you develop and then move onto bigger and better things. Are people taking notice of Stabaek?
I mentioned how Dio saw the way how things worked for Adu. I think that the word has gotten out a little bit. People see the way we play, have found out about the way we train. They see that guys have improved. We still  have an awful lot of games were players from opposing teams, after the game they say 'I really like the way you guys play football.' So I think there's a positive vibe about the way we work. The players here, when they talk with other players they speak in a good way. There have been so many examples [of players moving onto bigger leagues] and when these guys now step up a level and improve, people see that and it will also help the word get out. As I told you last year we have a lot of scouts at every game and they see what's going on in terms of the football. I will run into scouts and they say they enjoy watching the team and how certain guys have improved. So those are good things. When the word spreads in those areas that can help in terms of attracting other players. That doesn't mean you now have the money to spend, we are still limited in terms of what we can spend, even with the money we've made.
The money gets used in other ways, there is already talk about one of the fields in the back that we use with the academy as well, it needs a new artificial surface. When the money comes in from Hull that will be one of the first things on the list. In a small club the money gets spread a lot of ways. Of course when the club financially had some trouble there is also some debt to paid off. Unfortunately it's not like all of that money gets put back into player acquisition but it is part of the way it works. The football, developing players, helping the club rebuild itself where the word about the club, finances and everything has improved. Those of us who have been part of this project in the past two years feel good about that. But that doesn't make everything perfect. There is still the part where you are competing for trophies and we want to feel like you have just as good a chance as everybody else. In this window for example, Rosenborg added a number of players and they are clearly in a position to do that. Everybody in Norway knows that financially Rosenborg is on one end and Stabaek is on the other. Again, I don't say any of that as a complaint because I knew all of this before I got here. I'm not complaining about it. I knew.
With Molde and Rosenborg both qualifying for the Europa League group stage and the Norwegian national team doing well, what does that mean for Tippeligaen? Is the level rising?
It says that Rosenborg and Molde are both good teams and both played well and now can hopefully do well in the group stage. I think the potential in Norwegian football is great. Obviously everyone knows about Martin Odegaard but there are other talented young players and the federation they are trying to make sure the national team program here has a common philosophy. We have all of the national team coaches here watching our games and those of our younger teams. There is a lot going on in Norwegian football and like any place, you try to make the need for each club to do stuff at the highest level possible. Talent is being developed and pushed. That is no different than a small country like Norway or a big country like the United States.
Bob, what about your own situation: you are coming towards the end of your two-year project. Have there been talks about a new contract?
My contract is up at the end of the year. There has been way too much talk about it. It's a daily topic over here in the media. We are at the start of a discussion here. Inge has said publicly over and over that they've seen the work here over the last year-and-a-half and he feels very strongly about that it is at the highest level and there needs to be an opportunity at a higher league. But you never know when and if and how that happens. When people have asked, I have simply said right now my focus is on this season and this group of players. That is the way I've always worked. When we get to the end of the year we will size up everything and figure it out.
Finally, what would winning a piece of silverware mean to you?
We feel very good with the way we've worked and the football we've played. The idea that we could top off all of that with a trophy this year, that would be an incredible achievement for everybody involved in this club in the last two years. Of course, we are not there yet. The idea that in both cases making it happen goes through Trondheim on a year when Rosenborg has been excellent, that's quite a challenge. We've earned the right to go there and believe  in what we're doing. Now, it's up to us.