The world's best player is out for 7-8 weeks, and life just got tough for Barcelona in the razor-thin race for La Liga.
And the pressure falls heavily on a player many like to think could be the heir to the throne.
The Blaugranas entered Saturday just behind Real Madrid in the table, but now must contend with a distinct lack of Lionel Messi for a couple of months.
[ MORE: Messi hurts knee ]
That puts a load of pressure on Neymar, who will have to carry the weight while the team waits for Messi's health and both the arrival of Arda Turan and Aleix Vidal at the end of Barca's transfer ban in December.
Barcelona, of course, sold usual insurance Pedro Rodriguez to Chelsea in the summer transfer window. They also have skill by the boatload, with Luis Suarez more than happy to attack opponents. And of course, Sandro is a gem at just 20 years old.
However, Real Madrid, Celta Vigo and either Atletico Madrid or Villarreal could be above Barca in the early season table come the end of the weekend. And Barca's UEFA Champions League group of Roma, Bayer Leverkusen and BATE Borisov is far from a cakewalk.
[ SIR ALEX: De Gea can lead Manchester United to Premier League title ]
Barca edged minnows Las Palmas 2-1 on Saturday once Messi left the match after 10 minutes with his knee injury, and the competition improves moving forward.
And we're about 7-8 weeks away from the first El Clasico of the season. Here's the projected opposition over the next 8 weeks or so:
Barcelona's upcoming fixtures
Tuesday- Champions League vs. Bayer Leverkusen
Oct. 3 – at Sevilla
Oct. 17 – vs. Rayo Vallecano
Oct. 20 – UCL at BATE Borisov
Nov. 1 – at Getafe
Nov. 4 – UCL vs. BATE Borisov
Nov. 8 – vs. Villarreal
Nov. 22 – at Real Madrid
Nov. 24 – UCL vs. AS Roma
Messi has rarely missed significant time in the past five seasons, ringing 55, 60, 50, 46 and 57 appearances for club, and 13, 9, 7, 13, and 8 for Argentina since 2011.
How good has he been this early season? Arguably, as good as ever. Look at his stats from advanced statistics site Squawka.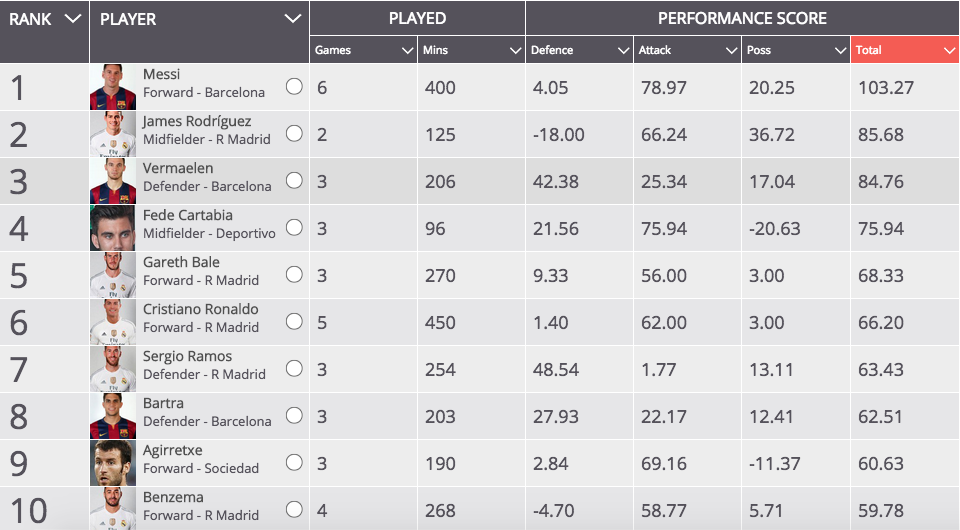 Barca will be able to weather the storm in shouting distance of their rivals, but the pressure will be more on Neymar to express himself as the focus of the team's playmaking, similar to his captain's role with Brazil.
Consider that the 23-year-old is also contending with more off-the-field legal trouble due to alleged tax evasion.
The difference between superstars and those once or twice in a generation megawatt personalities come in moments like these. With respect to Suarez, this will be a time for Neymar to express himself as a true giant of the game, not just for the present but in history.
Sure Sandro can help. And Suarez, too. But Neymar wants to be among the best ever. Here's a chance to show he's no average superstar.
Whatever that means. Game on.