Week 30 of the 2015 Major League Soccer season is in the books, and despite what I thought on Friday, we know nothing more about about the 2015 MLS Cup Playoffs picture now than we did then.
[ FOLLOW: All of PST's MLS coverage | Standings | Stats | Schedule ]
There were some truly amazing goals scored in Week 30 — see: HERE and HERE — as well as a second hat trick of the season for a certain Canadian striker, so all things considered, it was a decent week of action around the most parity-filled league in the world. Which, of course, is to say there really are no good teams in MLS; they're all equally average and flawed, which was my ugly realization over the weekend.
[ WEEK 30: TFC 3-2 CHI | MTL 2-0 DCU | CLB 1-2 POR | SKC 1-1 SEA ]
That's not to say, though, there weren't some stellar individual performances worth recognizing, which bring us to this week's MLS Team of the Week (in full below).
Thoughts? Questions? Agreements? Disagreements? (Of course not.) Leave them in the comments section, as always. I'm not afraid to defend my picks.
[ MORE: 2015 MLS Team of the Week archive ]
MLS Team of the Week — Week 30
Goalkeeper: Andre Blake (Philadelphia Union)
Defenders: Wandrille Lefevre (Montreal Impact), Ethan White (Philadelphia Union), Kendall Waston (Vancouver Whitecaps), RJ Allen (New York City FC)
Midfielders: Sebastian Giovinco (Toronto FC), Kaka (Orlando City SC), Juninho (LA Galaxy)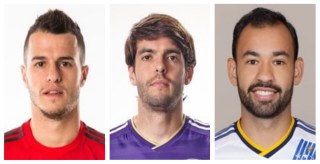 Forwards: Cyle Larin (Orlando City SC), Didier Drogba (Montreal Impact), Fanendo Adi (Portland Timbers)