Do you want him in, or out?
It's not your decision, but many fans of the U.S. national team, and U.S. Soccer as a whole, have been debating the future of Jurgen Klinsmann as the head coach of the USMNT and the technical director.
[ MORE: Klopp's top targets emerge ]
Klinsmann, 51, has now been the head coach of the U.S. for over four years. In that time he has won a Gold Cup (2103) and led the U.S. to the last 16 of the World Cup (2014). Those, plus a smattering of impressive friendly wins away in Europe, have been the highlights, but plenty of lows have continued to roll in over the last few months, as questions regarding whether or not the German coach is the right man for the job have continued to linger, and now they're festering.
[ MORE: The end for Klinsmann? ]
President of the U.S. Soccer Federation, Sunil Gulati, has already said Klinsmann's job was safe regardless of the outcome of the CONCACAF Cup match, which the U.S. lost to Mexico 3-2 after extra time on Saturday. That scoreline flattered the U.S. as they sat back in a defensive shell (something we saw throughout the World Cup in Brazil and against many of the elite nations they have faced over the past four years) and couldn't cope with the constant attacks launched by El Tri. The loss provided plenty of people with ammunition to say: Klinsmann has to go.
That is not just a knee-jerk reaction to a defeat to a bitter rival, but the rearing of a violent under-current which has been sweeping through USMNT fans for quite some time and has manifested into a wave of negativity against Klinsmann, the playing style he promotes, his staff and his players.
[ MORE: Behind-the-scenes at Klopp's unveiling ] 
The latter two parties can certainly not escape the blame, but like any coach of any team worldwide, the buck has to stop with Klinsmann amid the lack of progress over the past four years since Bob Bradley was fired for a Gold Cup final defeat to Mexico, also at the Pasadena Rose Bowl. Klinsmann stated that winning the Gold Cup this summer was crucial. The U.S. finished fourth in its second worst-ever performance. He also stated reaching the Confederations Cup was crucial. Those hopes were dashed by Saturday's defeat. And then there's the hope of qualifying for the 2016 Olympics in Rio, which hang by a thread after Andi Herzog's side were beaten by Honduras in the semifinal of the qualifying tournament on Saturday, just hours before Mexico beat the U.S.
[ MORE: Player ratings from USA 2-3 Mexico ]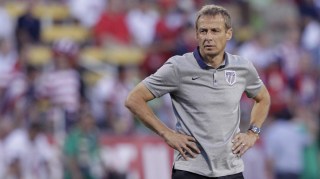 Many can't argue that Klinsmann is capable of building successful youth programs and systems for teams to flourish long-term. Look what he did in Germany before and during the 2006 World Cup, as Die Mannschaft immediately bore the fruits of his and Joachim Low's labor with a third place finish, and then replicated that achievement at the 2010 World Cup before winning it all in 2014. Klinsmann helped put that in place and with plenty of promising young players selecting the U.S. over other nations, plus improvements being made across the infrastructure of U.S. Soccer, his role as technical director of U.S. Soccer seems a natural and good fit.
However, the percentage of games he has won as U.S. boss has now dipped to 55.25 percent, which is lower than his spell in charge of Germany and his 44 games at Bayern Munich, and there needs to be some more accountability. That is the biggest concern for fans and those observing the U.S. national team. Increasingly Klinsmann doesn't seem to be taking the blame solely on his shoulders and amid the constant lineup changes and lack of continuity in who he selects (and comments about whether they play in MLS or Europe) in which formation, the USMNT has become a rudderless ship drifting into the murky waters of obscurity on the international stage. The lack of identity on this team is troublesome and leaves the outlook for the future looking bleak. Will the next three years under Klinsmann be like that last four? He has previously stated that the target at Russia 2018 must be to reach the semifinals. Right now, that seems a long way off.
Speaking in his post-game press conference after the loss to Mexico, here's what Klinsmann had to say, via MLSsoccer.com, about how the U.S. can move on from a disappointing spell.
"A loss is always difficult to swallow, there's no doubt about it, especially when there's a lot at stake," Klinsmann said. "It means that you have to work even harder than you ever did before in order to turn the results around and make things happen….

"We have to get out group together and rethink the next couple of months," he continued. "Obviously, we're going into World Cup qualifying already in November, and we have to kind of sit together and discuss things–who we'll be counting on, how we want to build toward the next couple of games. There's not much time in between, because World Cup qualifying is World Cup qualifying. So there will be a lot of conversations coming up in the next couple of days."
A lot of those conversations, from fans at least, will be about Klinsmann's future as the national team's head coach. Those are just and fair, as Klinsmann has failed to get any more out of a player pool with largely the same, if not more, talent than Bradley had between 2007-11.
The calls for Klinsmann to move on from being the head coach of the USMNT and move "upstairs" to continue in his role as a technical director are growing.
What this U.S. side needs now is re-invigoration, fresh ideas and a new approach. The overwhelming feeling from the masses is that after four years of stagnation, Klinsmann is no longer the right man to push this program forward.