David Beckham is hoping for his Major League Soccer franchise to be run just like the club he supports: Manchester United.
[ MORE: Klinsmann sends Johnson home ]
Beckham, 40, is still working on finalizing a stadium for his MLS team to play in, more on that below, but he has been speaking about his dream of becoming an owner and has earmarked the 2018 MLS season as when his franchise will arrive on the scene.
Beckham spoke to the Daily Star in the UK about his vision for the MLS club, and says the team he came up through the ranks with and played for professional for 12-years is the benchmark.
"We want the club to be run professionally — everything needs to be run like a club like Manchester United," Beckham said. "You have to look at it like that. Luckily, I've had a little bit of experience in that and I definitely will be a demanding owner. I want the team to be successful and the club to be successful, so I think I have to be demanding."
The former United, Real Madrid, LA Galaxy, AC Milan and Paris Saint-Germain midfielder also spoke about the lengthy delays with the stadium deal and how "dealing with the political side of things in Miami has been a lot more difficult" than he expected.
[ MORE: Dust settles, questions remain for USMNT future ]
In fact, a source has told ProSoccerTalk that the proposed stadium site for Beckham's franchise, directly next to Major League Baseball franchise Miami Marlins' home, Marlins Park, in Little Havana, is still some way from being signed off on as many restrictions will be placed on Beckham and his ownership group before the first shovel hits the ground. Beckham himself said in his latest update that in six weeks time he hopes to name the stadium site.
However the source confirmed that any stadium announcement deal could be someway off as Beckham's ownership group – which includes PR tycoon, agent and close friend Simon Fuller, plus Bolivian billionaire Marcelo Claure – still haven't hammered out many of the specifics of a stadium deal with the City of Miami, while negotiations with the Marlins are also expected to take months before any stadium deal can be confirmed. The source added that the Marlins are positive about turning derelict land opposite their current Marlins Park home into an MLS stadium, but there are several conditions which have to be met in order for the stadium to be given the green light by the MLB franchise. These conditions include no MLS games conflicting with Marlins games, sponsorship deals not conflicting with those the Marlins have on the outside of their stadium and various other facets including transportation links and infrastructure.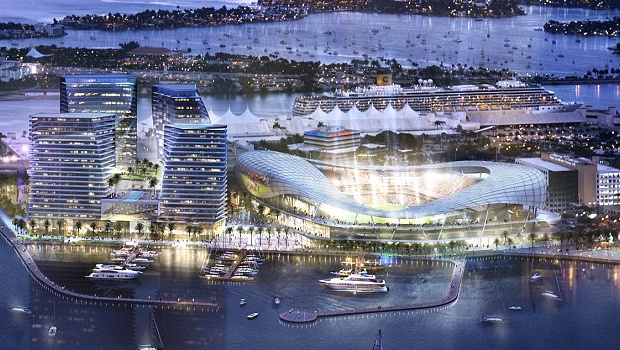 The source goes on to note that several high-ranking City officials and business operators in and around Miami Dade County still feel unease towards Beckham and the razzmatazz surrounding his initial stadium plan to house his MLS team on a prime waterfront location in Downtown Miami (see photo, above) next to the Miami Heat's American Airlines arena. Beckham has since accepted that his opening stadium plan was "cheeky" but many business leaders had their noses put out of joint and many are making it increasingly difficult for a stadium deal to get over the line for the former LA Galaxy star.
In terms of the specifics surrounding a potential new home for what will now, given the delays, surely become MLS' 24th franchise in either 2018 or 2019, the location picked is just over two miles from Downtown Miami with good links via public transport and roads. It is in a neighborhood which has a tough past but is on the up as rap star Pitbull has just built a huge academy (Sports Leaders and Management Charter Middle/High School) offering opportunities for education to underprivileged children in the Little Havana community. Along with Marlins Park, the addition of an MLS franchise would undoubtedly bring plenty of jobs into the area and help boost the economy further.
Beckham's dream of owning a team in Miami is edging closer to realization but it seems like it's still some way off having a stadium to call home.