There's a lot of anguish and a growing feel of discontent among fans of the U.S. national team.
I know. I hear it.
[ MORE: Premier League injury report ] 
Following the CONCACAF Cup defeat to Mexico on Saturday I wrote a piece on the questions surrounding Jurgen Klinsmann's side and how they have become a "rudderless ship drifting into the murky waters of obscurity on the international stage."
Yeah. It has got that bad. In front of a crowd of under 10,000 (most of which seemed to be supporting the away team) for the 1-0 defeat to Costa Rica at Red Bull Arena on Tuesday, it is becoming apparent that a large part of the USMNT fanbase is becoming disillusioned — regardless of the level of quality in the current player pool — with Klinsmann's vision and the slow progress, if any, being made. The boos towards Klinsmann said it all.
[ MORE: U.S. lose to Costa Rica ] 
Yet still, fans of the U.S. national team seem to be somewhat divided on that million dollar question: should he stay or should he go? Klinsmann, that is.
It all comes down to expectations. What does the average fan of the USMNT think is achievable? What do they want to see from their team and do they think they are seeing enough of it?
Four years into Klinsmann's spell in charge of the U.S., and with another deal under his belt to lead the U.S. through the end of the 2018 World Cup in Russia, now is a good time to look at what has been achieved and the goals heading forward.
[ MORE: Player ratings from USA v Mexico ]
Klinsmann led the team to the 2013 Gold Cup. Great. It's been done before, but still, a continental trophy should not be scoffed at. Okay, next up, has he been raising the profile of the USMNT across the globe? You can argue Klinsmann has done that too, as people across the world know his name, know what he has done as a player and a coach, which has helped to recruit plenty of youngsters (see: Julian Green, Gedion Zelalem) into selecting to represent the USA over other nations, mainly Germany. This factor, plus some marquee friendly wins over big European nations such as Italy, the Netherlands and Germany away from home, also stick out as people's expectations have been lifted along the way. Not the whole time, but there have been enough flashes from this U.S. side to believe things were heading in the right direction.
[ MORE: Questions remain over USMNT, Klinsmann's future ]
Okay, now the bad stuff which has tempered people's expectations of what this team can achieve. Klinsmann went big on this summer being pivotal in his masterplan for U.S. Soccer. He is, after all, technical director too. Let's not forget that. First up was 2015 Gold Cup success which would in turn see the USA qualify for the 2017 Confederations Cup. The U.S. finished fourth in a terrible Gold Cup campaign and then lost the playoff game to Mexico at the weekend. He also, as technical director, said it was vital the U.S. qualified for the 2016 Rio Olympics. They have failed to do that automatically, but have a shot at redemption in Rio in March as they will face Colombia in a one-off playoff game. So there is hope there. Then, what else is there? The achievement of getting out of the "Group of Death" at the 2014 World Cup was heralded, as was the staying power against Belgium in the Round of 16 extratime defeat, and many believed that progress was being made.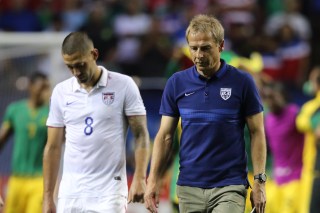 Yet, in just over 12 months since the World Cup euphoria, things have soured. Talk of player unrest, Klinsmann's intriguing battle between wanting players to play at the highest level in Europe, then picking them anyway when they return to Major League Soccer and him publicly throwing the likes of Alejandro Bedoya and then Fabian Johnson under the bus in recent weeks has seen things threaten to spiral out of control. Criticism of U.S. Soccer President Sunil Gulati has followed from many quarters as many questioned why he would hand Klinsmann a new long-term deal before the 2014 World Cup began last summer. The big question here is, what do U.S. fans expect? And perhaps more poignantly, are those expectation levels on Klinsmann, and his players, unfair?
[ MORE: Is this the end for Klinsmann? ]
Do they expect to win the World Cup? No. Do they expect to dominate the CONCACAF region? Yes, although many admit Mexico will always be sparring partners at the same level. Do they want to see their team scrap and fight for every ball and leave everything out on the pitch? Yes. And you can argue that 99 percent of the times Klinsmann's players have been doing that, but in the friendly defeats to Brazil and Costa Rica recently, you get the sense that even some of his players are starting to wonder: "What are we doing here? Where are we going as a team? What are the goals?"
Klinsmann's long-stated goal is to reach the semifinals of the 2018 World Cup in Russia. It is. It truly is. He told our own Arlo White about this nearly two years ago before the U.S. played friendlies against Scotland and Austria over in Europe.
Right now, that expectation and that goal from Klinsmann seems a long way off. There is a lot of hard work to do and that work will be ever harder if the fans and, more importantly, the players are not on his side.
As fans, as soccer observers reading this, what do you expect from the U.S. national team? Do you just want a team that makes you proud and punches above its weight? Bob Bradley's team certainly did that as he won the 2007 Gold Cup and came runner up in 2009 and 2011. Bradley's team also delivered a glorious run to the final of the 2009 Confederations Cup and a Round of 16 berth in the 2010 World Cup. He had players of a similar ability, if not inferior, to the ones Klinsmann is working with now. That issue of "player ability" is something which frequently clouds thee expectation issues U.S. fans are currently having.
Do you want a team that excites you and rips opponents apart? Do you want a team that can challenge in the latter stages of a World Cup? Of course you do. But it is all about managing expectations. About looking at the players and the coaches you have, and what your opponents have, and then seeing what is realistic.
Many of you are split down the middle as to whether Klinsmann is the right man to lead the U.S. into the next World Cup cycle which begins with CONCACAF qualifying games in November. Ask yourself this: is there anybody out there better for the job who the U.S. can get and are the players at his disposal good enough to deliver a deep run at a World Cup tournament under three years from now?
Then, and only if you're honest, will you get the answer to the riddling equation which has been irking fans of the U.S. national team for quite some time.
What should you expect from the U.S. national team? And, are those expectations being met?