LONDON — Tottenham Hotspur and Liverpool played out a 0-0 draw on Saturday at White Hart Lane, as the Jurgen Klopp era began with an entertaining stalemate.
[ RECAP – Spurs 0-0 Liverpool ]
Klopp's side started brightly but faded as the first half wore on, and in truth a draw was a fair result as these two top four hopefuls squared off.
[ MORE: Klopp cool, praises attackers ]
Here are three things we learned from Klopp's debut at the Lane.
XMAS TREE, KLOPP PASSION
Standing in front of dozens of photographers before the game, Klopp stood with his arms crossed and looked poignantly towards Liverpool's fans holding up banners and flags with the German flag emblazoned across many. "Liverpool Uber Alles" read one. For breaks in play during the first half, Klopp often looked back over to the fans as he seemed to be trying to make sense of it all and cultivate his famed ability to connect the club he manages with its supporters. He punched the air in delight when corners were awarded to his team and was hugely positive in his approach towards his players with his Germanic gesticulations causing plenty of chuckles among fans and media members surrounding Liverpool's bench.
The German applauded high-pressing down the right flank from his forwards early on and stood on the edge of his technical area in an eased, yet somewhat agitated state, throughout. When Divock Origi's early header came off the underside of the bar, he first winced but then applauded his team. Time and time again he let out a whistle, reminiscent of a kettle, when Liverpool lost the ball and waved his right hand in a circular motion to let his team know it was time to get back in defensive shape. That whistling and motion will become commonplace for Klopp. Yelping "Yaaaa, come on!" when Emre Can made a crunching tackle in the first half, Klopp's passion was clear on the sidelines just in front of the press box. What was also clear was the formation he started with. Klopp favored a Christmas Tree (4-3-2-1) formation which allowed Adam Lallana and Philippe Coutinho to create just behind the willing runner of Origi. When Daniel Sturridge and Christian Benteke return from injury they could well force Klopp into playing two up front, but youngster Origi led the line well and the solidity the all-action display of Can and experience of Lucas and James Milner in the middle made sure the back four got plenty of protection. The narrow formation worked well and allowed both Alberto Moreno and Nathaniel Clyne to push forward from full back. It remains to be seen whether this festive formation will be Klopp's first-choice moving forward, but in a case of horses for courses in his first game in charge, he got the balance between fast paced attacks and staying tight at the back spot on.
SPURS DISJOINTED
Mauricio Pochettino was almost as animated as Klopp on the sidelines, as the Argentine coach was not only infuriated with several refereeing decisions as Liverpool broke up his teams attacks, but also seemed agitated with the his teams lack of fluidity in attack.
Christian Eriksen, Erik Lamela and Harry Kane drifted in and out of the game, and missing the destructive force of Eric Dier in the center of midfield, Spurs failed to get the ball to their danger men often enough. Kane and substitute Clinton N'Jie (who looked lively) both tested Simon Mignolet and on another day Spurs could have nicked this. Overall, a draw was a fair result and Spurs have now lost just once all season and that was on the opening day, 1-0 away at Manchester United in another narrow encounter. Pochettino's side aren't far from being a very, very good team but they are just lacking that extra bit of nous in the final third. With Kane's poor run in front of goal continuing — it's just one goal in nine outings so far this season in the PL — those games Tottenham were sneaking 1-0 and 2-1 wins in last season have all of sudden turned into a plethora of draws. Spurs have five draws from nine games this season, more than any other team.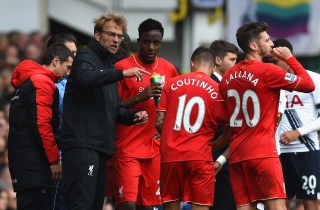 FITNESS, TRANSITION KEY FOR LIVERPOOL SUCCESS
Without a preseason to whip his team into shape, it was always going to be a case of slow progress for Klopp in his first season in charge at Liverpool. Known, like Spurs boss Pochettino, for his high-pressing style of play and his intense training sessions, Klopp's men came flying out of the traps early and looked fitter, sharper and stronger than Spurs. However, it was unlikely that high-tempo would remain throughout and past the half hour mark Spurs began to take control. Kane and N'Jie went close as Mignolet brilliantly denied them, and for the rest of the game it was an even encounter.
Liverpool's players, at times, looked visibly tired and although they gave their all for Klopp on his debut, it is clear that fitness levels need to improve if they are going to live up to his lofty expectations. Stats following the game showed that Liverpool's players covered more distance and made more sprints in this game than any other during the current season and also became the first team to outrun Spurs, who are renowned for their all-action displays. It was a decent start for the German coach, especially with key players out, but there is plenty of hard work to come on the training ground in the weeks and months ahead.