There weren't a ton of goals on Saturday, but the Premier League did have a good deal of drama in store for folks who tuned into its top-flight action.
Arsenal 2-1 Everton – RECAP
Mesut Ozil was a playmaking wizard in upping his Premier League-leading assist total, while Petr Cech made several clutch saves for the Gunners in holding off an Everton side that didn't quit chasing an equalizer until the death. Ross Barkley scored for the Toffees, while Laurent Koscielny and Olivier Giroud netted for Arsene Wenger's table-topping side.
Stoke City 0-2 Watford – RECAP
Quique Flores' Hornets continue to show they have Premier League staying power in terms of attack, even if an injury to USMNT veteran Geoff Cameron helped Watford get through the Stoke back line. Troy Deeney scored his first PL goal, while Odion Ighalo sent up Almen Abdi for the other Watford tally.
Leicester City 1-0 Crystal Palace – RECAP
Jamie Vardy is scoring at a historic clip in picking up a goal for the seventh-straight game, which puts him in some pretty incredible company (See: Henry, Thierry and Shearer, Alan). Crystal Palace boss Alan Pardew didn't feel like crediting the Foxes, though, as he was ticked off at the actions of the Tinkerman: Leicester boss Claudio Ranieri.
Norwich City 0-1 West Bromwich Albion – RECAP
Tony Pulis' tactics won't get him any love from fans of entertainment, but the Baggies are a top-half side after record-signing Salomon Rondon picked up a goal on Saturday. Norwich didn't give up six goals this week, but one was enough to keep them in danger.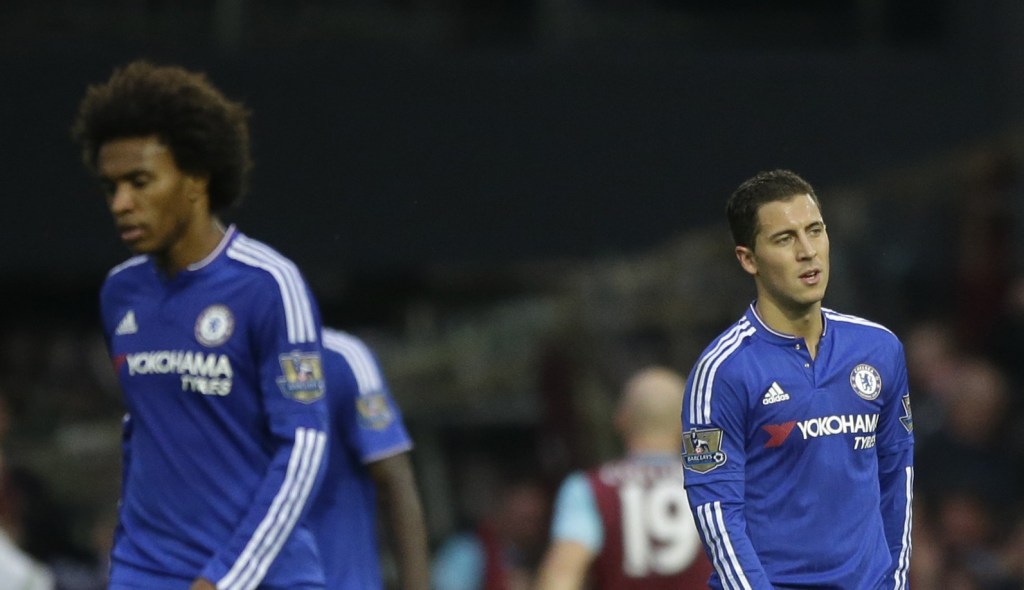 West Ham United 2-1 Chelsea – RECAP
First things first, Nemanja Matic absolutely earned both of the yellow cards that led to his dismissal from Chelsea's loss. But the Blues will feel chagrin for a couple other reasons: Cesc Fabregas' questionably disallowed goal for offside, and the Goal Decision System showing that a sliver of Kurt Zouma's presumed equalizer didn't cross the line. Not much Jose Mourinho could do about either, but he was sent to the stands after trying to get into the referees' room at halftime.
Aston Villa 1-2 Swansea City – RECAP
Andre Ayew's late winner crushed the spirits of Villa Park, which had watched as Andre's brother Jordan scored his first Premier League goal and looked to have given Tim Sherwood a reprieve. The drop zone candidates that conceded a Gylfi Sigurdsson free kick before falling 2-1. Goodbye to Timmy Tactics in Birmingham?
Sunday
Sunderland vs. Newcastle United — 8 a.m. ET, NBCSN, Live Extra
Bournemouth vs. Tottenham Hotspur — 10:05 a.m. ET, Live Extra
Manchester United vs. Manchester City –10:05 a.m. ET, NBCSN, Live Extra
Liverpool vs. Southampton — 12:15 p.m. ET, NBC, Live Extra