Decision Day's Team of the Week is decidedly Ohioan.
[ FOLLOW: All of PST's MLS coverage | Standings | Stats | Schedule ]
Three Columbus Crew members made our XI after a 5-0 thrashing of DC United, while Montreal and Vancouver both put a pair of players into the mix.
As for one-offs, New England, Portland, Seattle and Dallas fans will have to appreciate the individual nature of their contributions to our team.
[ MORE: 2015 MLS Team of the Week archive ]
We start in the back, where David Ousted made a number of solid saves to assure the Whitecaps will see a bye and a playoff match in Vancouver. Kendall Waston helped at both ends (MLS Defender of the Year, anyone?).
Over in Columbus, it may've been about the offense but that doesn't mean the Crew didn't see good work from each part of the field. Waylon Francis was a force at the back and up the flanks, while mid Ethan Finlay scored a pair and Jack McInerney picked up a goal and an assist up top.
He's joined by Clint Dempsey, who blew away Real Salt Lake, and Didier Drogba, who was Didier Drogba.
[ MORE: Knockout round kickoff times set for Weds. & Thurs. ]
The Ivorian sees one of his teammates in the midfield, as bulldog Marco Donadel helped harass Sebastian Giovinco in Montreal's 2-1 loss. Would he be on our team if yellow cards came at a better pace is a decent question, but Donadel may've had his name mentioned as many as any non-goal scorer in the league on Sunday.
Darlington Nagbe is our player of the week after boosting Portland into the No. 3 seed, while our team is completed by FC Dallas goal scorer Victor Ulloa and New England defender Jose Goncalves, the latter coming close to blanking NYC if not for a late penalty.
MLS Team of the Week — Week 34
Goalkeeper: David Ousted (Vancouver Whitecaps)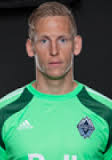 Defenders: Kendall Waston (Vancouver Whitecaps), Jose Goncalves (New England Revolution), Waylon Francis (Columbus Crew),
Midfielders: Ethan Finlay (Columbus Crew), Darlington Nagbe (Portland Timbers), Victor Ulloa (FC Dallas), Marco Donadel (Montreal Impact)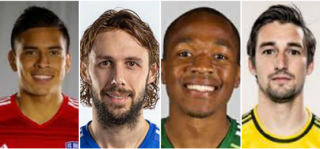 Forwards: Didier Drogba (Montreal Impact), Clint Dempsey (Seattle Sounders), Jack McInerney (Columbus Crew)