MOURINHO MELTDOWN IN FULL FLOW
For the fifth time in 10 Premier League games this season, Chelsea tasted defeat. It seems like we are saying this every week lately, but the Blues' dismal season hit a new low on Saturday at Upton Park.
Facing their London rivals for the final time at the famous Boleyn Ground, Chelsea — most noticeably their manager Jose Mourinho — hit the self-destruct button in a big way as their star players continue to struggle and their manager was once again left scratching his head for an explanation as he's tried calling out veterans, dropping superstars and giving youngsters a chance. Nothing seems to be working.
[ MORE: Mayhem as Chelsea lose again ]
In a few minutes at the end of a first half where they trailed 1-0 at West Ham, Cesc Fabregas had a goal disallowed for a tight offside decision, Nemanja Matic was shown a second yellow card as the Blues went down to 10-men and then a member of Mourinho's coaching staff, Silvino Louro, was sent off for running onto the pitch to remonstrate about the decisions.
Mourinho stood there still, smirking, with his hands tightly tucked into his pockets as he watched on with the reigning PL champs unraveling.
All of the self-control he showed in that situation obviously left him at half time as the Chelsea manager was sent off by referee Jon Moss, after allegedly launching into a tirade against the officiating, and spent the second half watching his team lose from the directors box at Upton Park among smug home fans — thanks to Andy Carroll's late winner — and with bodyguards surrounding him. After being sent off, Mourinho did not speak to the press after the game. That was probably for the best but could land him in further trouble. His players did and said they were "devastated" as their title defense seems all but over. To add insult to injury Mourinho was charged with misconduct by the FA on Monday, as the number of charges, fines and investigations against him are now totting up. The PL has its perfect pantomime villain, one that seems to believe everybody and everything is against him and his team.
[ MORE: Standings | schedule | stats ]
Mourinho, 52, continues to be under pressure as he slammed the English media last week for "having no respect" after videos of him being followed around the streets of London by teenage lads were leaked. The world seems to be closing in on Mourinho and his players, as they continue to get themselves in terrible situations and despite the rub of the green not going their way, the Blues are not helping themselves on and off the pitch. When you look at the situation Mourinho has gotten himself into, can you feel sorry for him?
No. Plus, he wouldn't want you to. Publicly calling out team doctor Eva Carneiro which led to her leaving, then being fined by the FA for saying referees are "afraid" to give his team decisions, having allegations thrown his way regarding harassment in the streets and now being sent off at half time on Saturday has led to many saying Mourinho is purposefully trying to get fired. There is nothing new here. Mourinho has always stood his ground and spoken out, regardless of the situation. Since he returned to Chelsea in 2013, he has racked up $150,000 in fines across six different charges by the FA.
Even if he was able to generate this extraordinary set of circumstances to somehow create an exit strategy from Chelsea, the team he led to a PL title just last season, would this really be in his best interests? Not turning around this situation would be a massive blot on "The Special One's" copybook and although you can't defend his actions off the pitch as he appears to be losing the plot, you can defend the fact that he is the right man to get Chelsea out of this mess.
[ MORE: Watch full PL match replays ] 
What is next for Mourinho? Reports say it would cost owner Roman Abramovich $45 million just to fire Mourinho. He is undoubtedly the best manager in the world. He is going through a slump. So are his players. Mourinho deserves the rest of the season, at least, to try and turn this around. Building a dynasty isn't always about parades, drinking champagne from cups and the glory. There are growing pains along the way. Ask Sir Alex Ferguson how many speed-bumps he had to negotiate amid all the success at Old Trafford. If Chelsea want long-term success, they must stick by Mourinho through the good and the bad. Right now it is bad. Very bad. But the good thing about that is it can only go one way for Chelsea. The only way is up and despite all of these defeats, they sit just nine points off fourth-place with 28 games to go this season in the PL.
"Chelsea cannot have a better manager than me," Mourinho said after a recent defeat to Southampton where he was also charged for comments against the refs. "There are many managers in the world who belong to my level but not better. Not better. If the club sacks me they sack the best manager this club ever had."
Love or hate his brash nature, he's right.
This situation is dire but Mourinho must be given the chance to steer the ship back into successful waters in the PL and in Europe. If he's not and Abramovich fires him, it's hard to see who else could rescue this situation and bring more success, long-term, to Stamford Bridge other than Mourinho.
Premier League Schedule – Week 10

| Result | Recap & Highlights |
| --- | --- |
| Arsenal 2-1 Everton | Recap, watch here |
| A Villa 1-2 Swansea | Recap, watch here |
| B'mouth 1-5 Spurs | Recap, watch here |
| Leicester 1-0 C Palace | Recap, watch here |
| Liverpool 1-1 Saints | Recap, watch here |
| Man Utd 0-0 Man City | Recap, watch here |
| Norwich 0-1 WBA | Recap, watch here |
| Stoke 0-2 Watford | Recap, watch here |
| S'land 3-0 N'castle | Recap, watch here |
| West Ham 2-1 Chelsea | Recap, watch here |
KANE'S BACK
Ah, there you are Harry. We've missed you, sir. Having burst onto the scene last season with 31 goals for Tottenham Hotspur in all competitions, winning the PFA Young Player of the Year award and making his England debut, it's fair to say Kane's start to this season has been a slow-burner. On Sunday down in the sun in Bournemouth he went nuclear.
Kane, 22, scored three times as Spurs smashed the Cherries 5-1 despite falling behind just 49 seconds into the game. True, Kane had some help from Bournemouth's Artur Boruc in goal, but that little bit of luck which has evaded the striker so far this season returned.
[ VIDEO: Premier League highlights ]
With Spurs only losing one game so far this season and having the best defense in the league, their solidity means that if Kane and Christian Eriksen go on a scoring spree, they will seriously challenge the top four. And with Kane back in form, top notch meme's also made a return.
Editor's note: For those who also had Kane as their fantasy team captain this weekend, high five. Spurs fans, enjoy the highlights below as your teams offense finally exploded into life.
SHERWOOD SACKED
After losing eight times in their opening 10 PL games of the season, Tim Sherwood was fired by Aston Villa's American owner, Randy Lerner, on Sunday.
Sherwood, 46, had been in charge of Villa since last February and despite keeping them up and leading them to an FA Cup final appearance last season, a poor start to the current campaign sees the Midlands club bottom of the standings and with plenty of new players on board who are either under-performing or have yet to settle in. Sherwood won 10 of his 28 games in charge of Villa and had a 35.7 percent win record. However, just six of this victories came during his 23 PL games in charge as his direct tactics initially got results but in recent weeks he's cut a forlorn figure on the sidelines with both Christian Benteke and Fabian Delph sold over the summer and reports of divides growing between him and the players in the dressing room following his last defeat, a 2-1 reverse at the hands of Swansea City.
Speaking via the League Managers Association (LMA) on Monday, here's what Sherwood had to say about being fired.
"I am very disappointed that I will not be able to carry on in my role as manager of Aston Villa. I knew when I took on the role that it would be a big challenge, but it proved to be one I greatly enjoyed and I know I have learned a lot from this experience. Obviously, the initial priority was to stay in the Premier League, but beating Liverpool in the FA Cup semi at Wembley and then leading the team out for the Final was an achievement and experience that I will treasure for the rest of my career.

"I'd like to thank my coaching staff and the staff throughout the club for their dedication, the Villa fans for their passionate support and the players, who gave everything during my time at the club. I wish the club all the best for the rest of the season and indeed for the future."
The situation at Villa, a club openly put on the market by Lerner as he looks to sell them, is dire and may only get worse. The likes of Alex McLeish, Paul Lambert and now Sherwood have all failed to revive this sleeping giant of English soccer under Lerner's reign. Until he sells up and lifts the uncertainty surrounding the clubs future, things could get much worse (i.e. relegation to the second-tier) before it gets better.
For now, we will not see Sherwood's brash nature in press conferences and the sight of him thrashing around his gilet jubilantly will become a distant memory. A coach who is old school in many ways and willing to give youth a chance has lost his job. Now, will Villa lose their status in the PL? Frenchman Remi Garde is the bookies favorite to take what has become one of the most difficult jobs in English soccer. Once again, keeping Villa up would be a massive achievement. It shouldn't be like this for a club of this stature.
NFL, PL MESHING
One storyline bubbling around the PL action this weekend was this: there is certainly a growing appreciation for the NFL among players and teams in the Premier League. I remember a chat with Brad Friedel earlier this year when he told me a lot of the young players at Spurs watched American sports avidly, and since then the likes of Harry Kane have revealed their love for baseball and last week Tottenham's Mousa Dembele, Toby Alderweireld and Jan Vertonghen were meeting the Buffalo Bills of the NFL at Spurs' training ground.
I went along to chat with players from the Bills and Spurs about the mutual respect between the two sports and how the NFL is growing in the UK and London. Here's a snippet from the piece on SportsWorld, titled "A true football mixer":
"When I played in Amsterdam for Ajax in Holland, they had a team in NFL Europe but after a couple of years they stopped it," Jan Vertonghen explained. "I would love to have a team here. In London there is lots of potential. It is the biggest city in Europe and if they have to start somewhere I think it will be here. These games that will be played in Wembley and hopefully in Tottenham Hotspur's new ground in a couple of years, they will help it to grow."
The International Series continues to draw sell-out crowds at Wembley Stadium, the latest of which saw the Bills lose in agonizing fashion to the Jacksonville Jaguars on Sunday.
With the NFL agreeing a new five-year deal to have at least two regular games a season at Wembley through 2020, plus Tottenham agreeing a 10-year deal to have at least two NFL games of their own every season at their new White Hart Lane stadium when it is complete in 2018., the interest levels are clearly there. With four NFL games a year soon coming to England's capital and the soccer capital of the globe, the meshing of the two types of football continues.
CAMERON HURT, HOWARD BLAMED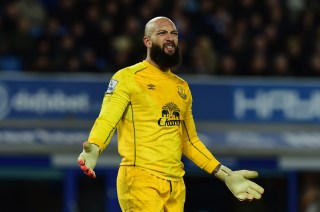 Overall, it was a bad weekend for the Americans Abroad in the PL. First up, Geoff Cameron started his 10th straight game at center back for Stoke City but the Massachusetts native only lasted nine minutes as he went down with a thigh injury which is likely to keep him out for a week, missing the Potters' big League Cup last 16 clash against Chelsea on Tuesday but he could make the league game against Newcastle on Saturday. Cameron's boss at Stoke, Mark Hughes, was full of praise for the U.S. national team star and pointed to his injury as a main reason for Stoke losing 2-0 at home to Watford.
"We were adversely affected when Geoff had to come off because he gives us that ability and that calmness on the ball," Hughes said. "He has been one of our star performers this season and we really missed him today."
Tim Howard had a day to forget by his own high standards, as the Everton and USMNT goalkeeper will feel he could have done better on both of Arsenal's goals as the Toffees lost 2-1 at the Emirates. On Arsenal's first goal Howard was caught in no-mans-land as Olivier Giroud flicked a header over him, then on the second he could have attacked the ball better but Santi Cazorla's wicked free kick from the left flank picked out Laurent Koscielny perfectly to head home the Gunners' crucial second.
[ MORE: Latest USMNT news ]
A poll on the Liverpool Echo's website saw 86 percent of participants call for Howard to be dropped, as fans of the Toffees believe his performances over the last 18 months since his World Cup heroics deserve to see him lose the starting spot. He has lost his starting spot for the League Cup last 16 clash on Tuesday against Norwich City, but only beacuse back-up Joel Robles will continue to play the cup games. After the defeat to Arsenal I asked Martinez about the goals his team conceded and if Howard's positioning was to blame. He refused to mention Howard directly, instead citing Everton's inexperienced defenders must do better at stopping the cross and tracking runners, but speaking to TV cameras earlier he did say that "a goalkeeper with his experience will be disappointed with that."
Completing the negative USMNT roundup, Brad Guzan's Aston Villa lost again but there was one bright spot… Sunderland loanee DeAndre Yedlin saw his side pick up their first victory of the season and beat bitter North East rivals Newcastle United 3-0, in somewhat controversial fashion, for a sixth-straight derby win. The Seattle native started his second-straight PL game since Sam Allardyce took charge and boy, that victory must have tasted sweet for Allardyce — a man who was fired by Newcastle — in his first home game in charge of the Black Cats as he lifted his new side off the bottom of the standings.
Premier League Playback comes out every week as PST's Lead Writer and Editor takes an alternative look at all the action from the weekend. Read the full archive, here.