LONDON — Toby Alderweireld has settled in seamlessly to Tottenham Hotspur's defense this season.
That's probably because he has more than a few familiar faces around him.
On a trip to hang out with Tottenham and Buffalo Bills players last week, ProSoccerTalk caught up with Alderweireld, 26, at Spurs training ground for an exclusive chat as the stylish defender has started every single Premier League game at the heart of Spurs' defense alongside fellow Belgian Jan Vertonghen. The duo are forming a formidable partnership as they have conceded just eight times in the opening 10 games of the campaign, the joint-best defensive record in the PL, and they go back quite a way.
[ MORE: JPW catches up with Kompany ]
Also around to help Alderweireld settle in at White Hart Lane are other Belgian internationals Mousa Dembele and Nacer Chadli, as Spurs' lineup has a settled look about it with Mauricio Pochettino's men in sixth spot on 17 points from their opening 10 games.
What does Alderweireld make of the season so far as Tottenham prepare for their game against Aston Villa on Monday (Watch live, 3 p.m. ET on NBCSN and online via Live Extra)?
"We had only one defeat and that was the first game. We have a good organization and everybody works very hard for the team," the former Atletico Madrid defender said. "I think up front we can make more of a difference but we are in a good way and we've had a lot of difficult games where we have stood our ground and I think we are a team who are difficult to beat."
In his second season in charge, Pochettino has Spurs moving in the right direction and almost almost a third of the way into this campaign, how is the Belgian international finding life under the regimented Argentine coach?
"You can see that we want to play pressure on run a lot and have the ball as much as possible, so that is always natural that the team has the ball and wants to attack. It is nice to play for him," Alderweireld said.
[ MORE: Tottenham smash five past Bournemouth ]
Last season Alderweireld was on loan at Southampton from Atletico Madrid and he enjoyed a magnificent season under Ronald Koeman at St Mary's but returned to Spain and Saints couldn't come to an permanent agreement with Atletico after the La Liga side exercised their option to cancel Saints' previous option-to-buy clause. That led to plenty of suitors wanting to buy him permanently from Atletico and Tottenham won the race as Alderweireld joined for $17.5 million and was reunited with Vertonghen for the third-time in his career.
"I know him, especially from Ajax because I played with him but growing up in Belgium I didn't play with him because he is two years older than me," Alderweireld revealed. "It is nice to play with him, we know each other well and I think you can see that on the field."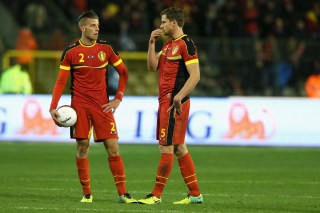 As Alderweireld alluded to, he and Vertonghen have a strong bond as they both played in the same youth team in Belgium, Germinal Beerschot, and both grew up in and around Antwerp close to the Dutch border. The duo also made the switch to Dutch giants Ajax and played in their esteemed youth academy before making it into the first team alongside one another in the same time as current Spurs playmaker Christian Eriksen and Luis Suarez. Their careers have taken similar routes ever since.
[ WATCH: Stream every PL game via Live Extra ] 
Now, they're forming a strong partnership at the heart of Spurs' defense with almost telepathic understanding at times as Vertonghen likes to stride out of the back and play with his left foot, while Alderweireld is deft with his right peg and both players are just as comfortable playing in the full back position.
Plus, they are both extremely comfortable playing alongside one another. Alderweireld explains.
"We know, we know. We talk a lot before the game about how to defend and how we have to do this," Alderweireld revealed. "'This kind of striker we have to do this', so we talk a lot before the game and in the game it is split second. If you have to tell each other every time 'watch this…' then the moment it is gone. We know what to do in certain situations we know what to do. It is very important. We know from each other that when he makes a mistake I cover and when I make I mistake he picks it up. That is important not only with me and Jan but the team wants to work very hard and make sure other players' mistakes don't hurt us. That is why we have a good solidity."
That solidity has been key to Spurs' success this season and although they have drawn five of their opening 10 games, they've only lost once and that came on the opening day of the season away at Manchester United courtesy of a bizarre own goal from Kyle Walker. So, what are Vertonghen's best qualities as Spurs' vice captain continues to impress in his fourth season at the Lane?
"He is a very good defender and he can play the ball. You can always play him the ball and he knows what to do," Alderweirled said, appreciatively. "He is quite quick, quite strong and good with the head, so he is an all-around player. That is important in the Premier League that you can defend your strikers, not only the strong ones but the fast ones and the small ones… it doesn't matter, he can beat them all. So that is very nice to have him there and he is a very good defender."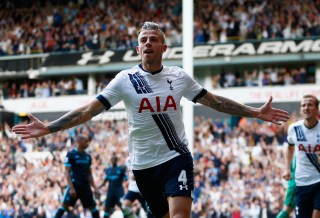 Another teammate for club and country who Alderweireld rates highly is Dembele. The midfielder has struggled with injuries and form since arriving at Spurs but has been pivotal in the midfield engine room in recent weeks and Alderweireld is a big fan.
"I think he is one of the best midfielders in the Premier League," Alderweireld said of Dembele. "He is very strong and it is difficult to be strong and technical. He has both. I think if he is not getting injured again then he will be a massive player for us. He can give even more to the team if he is healthy and I think the game against Liverpool was a massive game from him. I hope he can show it now every week because he deserves it. He works very hard and is a very good guy. I really hope he can show it more because he is one of the best midfielders in the Premier League."
With Dembele and Eric Dier providing a robust shield in front of Spurs' defense, Alderweireld firmly believes his side are setting the foundations for a successful season which will see them challenge for a top for spot.
"That defensive solidity is the way we will get success," Alderweireld said. "It is important that the team feels confident in playing and isn't conceding, not giving away a lot of chances. If you have to score three, four, five goals to win it is not good. I think we can improve up front but we are working very hard in a good way and we are playing very well."
The same can be said for Alderweireld and his good friend he shares the center back position with at White Hart Lane.